Acropolis Rally: Jari-Matti seals first victory for Volkswagen
| | |
| --- | --- |
| | Sunday, June 2nd 2013, 11:36 GMT |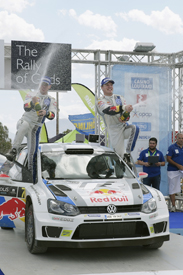 Jari-Matti Latvala claimed his first World Rally Championship win since joining Volkswagen as he completed a dominant run to the Acropolis Rally finish.
When a fuel feed problem took Latvala's championship-leading team-mate Sebastien Ogier out of contention on the very first stage, the Finn became VW's main hope.
At first he looked unlikely to step up to the challenge, running third behind Dani Sordo's Citroen and the initially dominant Evgeny Novikov's M-Sport Ford.
But on Saturday morning Latvala quickly claimed second from Sordo and then benefited when Novikov clipped a bank and picked up wheel, tyre, suspension and brake damage.
After that, Latvala cruised to a commanding victory, a minute and a half clear of Sordo.
Thierry Neuville drove a mature rally to third, salvaging a podium for M-Sport Ford despite Novikov's disappointment.
In his wake, almost every other WRC contender was fighting back from delays.
Andreas Mikkelsen overcame miscellaneous problems to snatch fourth from Nasser Al-Attiyah thanks to a string of stage wins on the final morning.
Mads Ostberg and Mikko Hirvonen hit trouble on Friday evening and were left several minutes behind before the rally had really begun.
They recovered to sixth and seventh, although Martin Prokop believes he was credited with an incorrect time on the penultimate stage and should be ahead of Hirvonen.
Novikov could only salvage ninth, while 10th was Ogier's limit when he rejoined under Rally 2. He did at least get the powerstage bonus points.
Robert Kubica clinched his biggest rallying success yet with a commanding performance in WRC 2.
Leading finishers:

Pos  Driver              Team/Car        Time/Gap
 1.  Jari-Matti Latvala  VW            3h31m01.2s
 2.  Dani Sordo          Citroen        + 1m50.0s
 3.  Thierry Neuville    M-Sport Ford   + 2m14.1s
 4.  Andreas Mikkelsen   VW             + 3m55.1s
 5.  Nasser Al-Attiyah   M-Sport Ford   + 4m12.6s
 6.  Mads Ostberg        M-Sport Ford   + 5m48.7s
 7.  Mikko Hirvonen      Citroen        + 8m00.7s
 8.  Martin Prokop       Czech Ford     + 8m01.2s
 9.  Evgeny Novikov      M-Sport Ford   + 8m11.8s
10.  Sebastien Ogier     VW            + 10m10.3s

WRC retirements:

     Khalid Al Qassimi   Citroen              SS8

Leading powerstage results:

 1.  Sebastien Ogier     VW              20m38.5s
 2.  Evgeny Novikov      M-Sport Ford       +9.9s
 3.  Andreas Mikkelsen   VW                +11.6s
 4.  Jari-Matti Latvala  VW                +13.2s
 5.  Mikko Hirvonen      Citroen           +13.4s