Spielberg European F3: Felix Rosenqvist closes points gap with win
| | |
| --- | --- |
| By Jamie O'Leary | Saturday, June 1st 2013, 10:23 GMT |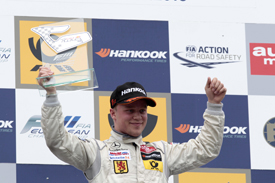 Felix Rosenqvist took his third Formula 3 European Championship win of the year at Spielberg on Saturday morning to reduce Raffaele Marciello's points lead.
From second on the grid Mucke Motorsport driver Rosenqvist made one of his trademark getaways to outdrag polesitter Daniil Kvyat into the first corner.
While Red Bull junior driver Kvyat was busy fending off a rearguard assault from Lucas Wolf, Rosenqvist made a break at the front and never headed.
The Swede won by 12 seconds with Carlin driver Kvyat, who is not registered for championship points, taking the best result of his short F3 career.
Wolf ran third for the first half of the race, but the URD Rennsport driver was soon under pressure from Carlin's Jordan King.
King passed Wolf cleanly with eight laps to go and took his maiden podium finish in the series, but when Nicholas Latifi did the same thing to Wolf on the next lap the German ran wide, dropping further spots to Marciello and Sven Muller.
Wolf's day got even worse when was overtaken by both Tom Blomqvist and Alex Lynn at Turn 1 next time round. He misjudged his braking, spinning Blomqvist around (pictured below) and earning himself a drive-through penalty.
Ferrari protege Marciello finished fourth for Prema Powerteam, having started 13th.
After running with Muller for the majority of the race, he passed the German on lap 16 and quickly dispatched Latifi afterwards. His championship lead was reduced by 10 points to 67.5 over Rosenqvist as a result.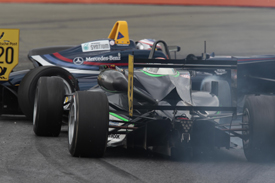 Latifi was an excellent fifth with Ma-con driver Muller behind and Lynn seventh - from 17th on the grid.
Eddie Cheever was eighth with Michael Lewis - now recovered following his huge Brands Hatch accident - taking his first points of the year in ninth and Lucas Auer completing the top 10.
Auer had to fight back after spinning to 22nd on lap three following a wheel-banging incident with Muller exiting Turn 2.
Harry Tincknell was another on the fightback. He spun at Turn 2 on the opening lap, possibly as a result of a nudge from a rival, and in the process blocked his Carlin team-mate Jann Mardenborough. They finished 12th and 13th respectively.
Results - 24 laps:

Pos  Driver               Team/Car                           Time/Gap
 1.  Felix Rosenqvist     Mucke Dallara-Merc               34m49.387s
 2.  Daniil Kvyat         Carlin Dallara-VW                 + 14.306s
 3.  Jordan King          Carlin Dallara-VW                 + 26.850s
 4.  Raffaelle Marciello  Prema Dallara-Merc                + 29.182s
 5.  Nicholas Latifi      Carlin Dallara-VW                 + 32.274s
 6.  Sven Muller          Ma-con Dallara-VW                 + 33.815s
 7.  Alex Lynn            Prema Dallara-Merc                + 35.358s
 8.  Eddie Cheever        Prema Dallara-Merc                + 40.920s
 9.  Michael Lewis        Mucke Dallara-Merc                + 41.657s
10.  Lucas Auer           Prema Dallara-Merc                + 42.151s
11.  Roy Nissany          Mucke Dallara-Merc                + 44.829s
12.  Harry Tincknell      Carlin Dallara-VW                 + 44.999s
13.  Jann Mardenborough   Carlin Dallara-VW                 + 46.820s
14.  Will Buller          Fortec Dallara-Merc               + 48.796s
15.  Antonio Giovinazzi   Double R Dallara-Merc             + 56.215s
16.  Lucas Wolf           URD Dallara-Merc                  + 59.128s
17.  Tom Blomqvist        Eurointernational Dallara-Merc  + 1m03.634s
18.  Pipo Derani          Fortec Dallara-Merc             + 1m06.935s
19.  Sandro Zeller        Zeller Dallara-Merc             + 1m11.463s
20.  Andre Rudersdorf     Ma-con Dallara-VW               + 1m11.954s
21.  Tatiana Calderon     Double R Dallara-Merc           + 1m27.718s
22.  Sean Gelael          Double R Dallara-Merc               + 1 lap
23.  Dennis van de Laar   Van Amersfoort Dallara-VW           + 1 lap
24.  Spike Goddard        T-Sport Dallara-Nissan              + 1 lap
25.  Mitchell Gilbert     Mucke Dallara-Merc                 + 2 laps

Retirements:

     Mans Grenhagen       Van Amersfoort Dallara-VW           16 laps
     Felix Serralles      Fortec Dallara-Merc                  7 laps
     Josh Hill            Fortec Dallara-Merc                  3 laps