Drayson B12 in electric speed record bid
| | |
| --- | --- |
| By Sam Tremayne | Wednesday, May 29th 2013, 10:22 GMT |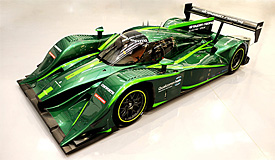 Lord Drayson will make an attempt on the FIA Electric Land Speed Record in a low-drag version of the Drayson B12 Le Mans prototype.
The bid, which will be made in the sub-1000kg class, is planned to take place at RAF Elvington in Yorkshire on June 25. The current record is 175mph.
Lord Drayson has been one of the chief movers in pioneering electric technology within motorsport.
In January this year Drayson Racing was the first team to commit to the FIA's new Formula E series, while work began on the Drayson B12 back in 2011.
Lord Drayson said the attempt is aimed at highlighting the potential of electric technology.
"The reason we are doing this is to showcase the maximum level of EV performance at the moment - and in a real racing car rather than a teardrop-shaped land speed record car," he explained.
"It is not the outright speed that is impressive about this record attempt, but the engineering challenge of accelerating a 1000kg electric vehicle to such a high speed and sustaining that speed over a measured mile, before stopping safely all within a relatively short distance then turning round and doing it again within an hour.
"It's a tremendous technical challenge but we believe it's about time someone moved this record on to demonstrate just how far EV technology has come."