Esteban Gutierrez admits he needs to improve qualifying form
| | |
| --- | --- |
| By Edd Straw | Friday, May 24th 2013, 14:25 GMT |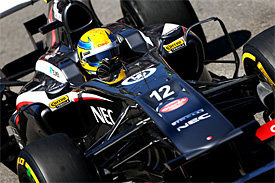 Esteban Gutierrez believes he must improve his ability to pull out extra pace on qualifying laps.
The Mexican had a strong weekend in the Spanish Grand Prix two weeks ago, where he was generally only a couple of tenths off team-mate Nico Hulkenberg.
But in the final run of qualifying, the German was able to extend that gap to just over four tenths of a second.
"In qualifying, it's a matter of finding a little but more between each run and that's where I need to work," said Gutierrez when asked by AUTOSPORT about Hulkenberg's ability to pull out more time.
"There was not a big gap during qualifying [in Spain], just the last run was more than two tenths.
"It is a challenge to put a perfect lap together, it's a matter of confidence and something that will come with time.
"I am going to work on that in the next few races to try to close the gap."
The Mexican, who endured a difficult start to the season, is determined to carry over the momentum from his strong Barcelona weekend into Monaco.
He made a promising start to the event, ending Thursday practice with a best lap just one tenth of a second off Hulkenberg.
"The most important thing is to keep the same rhythm and the same mentality," he said.
"The main pressure comes from myself and the first person that wants a good result is me.
"If I make a mistake, I know what I did and if I do things right, I know how I did things right.
"It's a matter of finding the right balance and when you find that, like we did in Barcelona, you try to continue in that direction."