Gary Paffett calls for yellow-flag rules changes in the DTM
| | |
| --- | --- |
| By Jamie O'Leary | Tuesday, May 21st 2013, 13:48 GMT |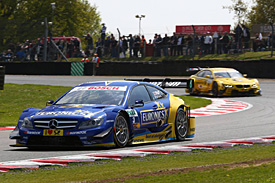 Gary Paffett believes the DTM's yellow-flag rules are 'wrong', and need a serious revision before the next round at Spielberg.
The HWA Mercedes driver finished third on the road at Brands Hatch last weekend, but was demoted to sixth after five seconds were added to his race time for a yellow-flag infringement.
Paffett was deemed to have not slowed by the mandatory 0.5s in sector three of the Brands Indy circuit as he passed Edoardo Mortara's stricken Audi at Clearways with 12 laps remaining.
Under current DTM regulations, whether a driver has slowed sufficiently is determined against a delta time that they are shown in-car.
"There's a rule in place and we have to abide by the rules, so I'll accept the penalty, but I'm not at all happy about it," Paffett told AUTOSPORT.
"Mortara had his accident right in front of me so I had to slow down anyway, and what that meant was that the reference time the officials were looking at was slower than on a normal lap for that sector.
"So then you have to drive to a slower reference time than anybody else, constantly checking your dashboard to make sure you've gone slowly enough to avoid the penalty.
"The problem is that you can drive through there less than half a second slower than normal and still be safe. At that stage of the race you're saving tyres anyway, so you're not going especially quickly."
Paffett was one of eight drivers to receive a penalty for failing to slow sufficiently under yellows during the race.
"The rule we have is not right, it's dangerous even," he added. "You're driving to a delta time to avoid a penalty, rather than driving in a way that's right for the conditions.
"We knew this kind of thing might happen, which was why we asked to have the rule changed before the weekend.
"The rule is just not right and it needs to be changed, but in a way I hope it stays as it is, because if it's changed, we've just lost a podium for no reason."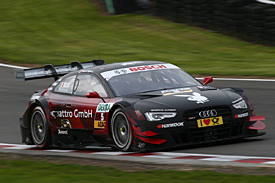 Mortara was another to be penalised, this time for failing to slow down enough while yellows were on display for Augusto Farfus's stricken BMW on the start/finish straight earlier in the race.
"When you only get yellow flags when you see the stopped car, and you have to slow down or get a penalty, the only choice is to brake on a straight," the Rosberg Audi driver said.
"It's dangerous. To have to brake on a straight, when there are cars all around you, just to reach your delta time... You could cause an accident."