McLaren boss Whitmarsh says Perez showing expected progress
| | |
| --- | --- |
| By Sam Tremayne and Pablo Elizalde | Tuesday, May 21st 2013, 11:48 GMT |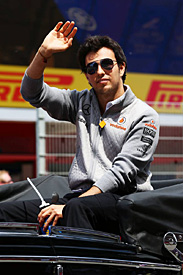 Sergio Perez is starting to show the qualities that made McLaren want him to replace Lewis Hamilton, according to team boss Martin Whitmarsh.
The Mexican driver scored just two points in his first three races with the team, but finished ahead of team-mate Jenson Button in Bahrain and then outqualified the Briton for the first time at Barcelona.
Whitmarsh feels Perez, who joined McLaren after two seasons with Sauber, is heading in the right direction as he settles in at his new team.
"Checo is showing the intelligence and natural pace that we saw in him before," Whitmarsh said during a Vodafone phone-in on Tuesday.
"He is growing in confidence. He is very young and relatively inexperienced.
"To put himself into daunting place of being a McLaren driver, particularly when we haven't delivered a good enough car, there's been an enormous amount of pressure.
"He still has a lot to learn, he is still more than a decade behind Jenson and yon can't acquire that overnight, but I think he is working in the correct direction."
Whitmarsh also reckons Perez will benefit from having a competitive team-mate in Button, whom he believes is a great benchmark for the Mexican.
"Jenson is enormously competitive individual, despite his apparent easygoing demeanour," he added.
"He doesn't like being beaten either so they are going to fight in a correct and appropriate way.
"Jenson is a tremendous benchmark, the ultimate professional with more than a decade of experience, very intelligent and quick.
"So [for Perez] to come into a new team, with a comparative lack of experience, if you're going to be a star of the future you have to beat your team-mate and he is getting stuck into that now."