Jeroen Bleekemolen lands Le Mans 24 Hours seat
| | |
| --- | --- |
| By Gary Watkins | Tuesday, May 21st 2013, 10:37 GMT |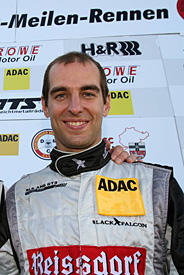 Dutch sportscar star Jeroen Bleekemolen will follow up on his victory in Nurburgring 24 Hours yesterday with a bid for class honours in the Le Mans 24 Hours in June.
Bleekemolen, who won at the 'Ring with the Black Falcon Mercedes team, has landed a last-minute drive with the Swiss Race Performance LMP2 team at Le Mans on June 22/23.
He will share the team's ORECA-Judd/BMW 03, which competes in the European Le Mans Series, with its regular line-up of team owner Michel Frey and GP3 driver Patric Niederhauser.
"This has been a kind of last-minute thing," explained Bleekemolen, who contested the 24 Hours with the Rebellion Racing LMP1 team in 2011-12 .
"My wife is expecting twins, which are due in Le Mans week, so I wasn't pushing too hard for a drive.
"The team approached me, and I thought why not? It is always good to go to Le Mans.
"LMP2 is going to be exceptionally competitive this year and I am hoping I can help bring the team forward a little bit when I drive the car for the first time at the Le Mans Test Day."
Briton Archie Hamilton, the grandson of 1953 Le Mans winner Duncan, has joined the G-Drive/Delta-ADR LMP2 team for Le Mans
The 22-year-old, who is racing in the GT Open International series this year, will share one of its pair of Nissan-powered ORECAs with Tor Graves and Shinji Nakano.
Sportscar regular Johhny Mowlem will make his ninth Le Mans start after landing a drive with the HVM Status GP squad.
The Briton will share the team's Lola-Judd/BMW B12/80 with Jonathan Hirschi and Tony Burgess, who made their debuts in the P2 car at last weekend's Imola ELMS round.
The two seats alongside Andrea Bertolini in the JMW Motorsport team's GTE Pro class Ferrari 458 Italia have been filled by Abdulaziz Al Faisal and Khaled al Qubaisi, from Saudi Arabia and the United Arab Emirates respectively.
Al Qubaisi has twice won the Dubai 24 Hours with Bleekemolen among his team-mates at Black Falcon.
The only significant gap in the entry list is the identity of the third driver in the lead AF Corse Ferrari 458 Italia alongside Gianmaria Bruni and Giancarlo Fisichella.
Matteo Malucelli, who races with the Risi Ferrari team in the American Le Mans Series, is among the list of candidates for the seat.