Christophe Bouchut to make 20th Le Mans 24 Hours start with Lotus
| | |
| --- | --- |
| By Gary Watkins | Monday, May 20th 2013, 15:16 GMT |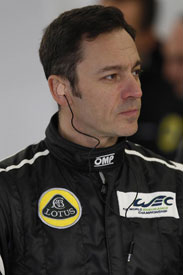 Former Le Mans 24 Hours winner Christophe Bouchut will make his 20th start in the endurance classic with the Lotus LMP2 team this year.
Bouchut, who won the race with Peugeot on his debut in 1993, will line up in one of the team's Lotus-Praga T128s alongside James Rossiter and Kevin Weeda.
The Frenchman is standing in for Vitantonio Liuzzi, who is racing in the Superstars International Series at Zolder on Le Mans weekend.
He has already replaced James Rossiter in the team at the World Endurance Championship opener at Silverstone last month.
"My 20th Le Mans will be special," said Bouchut. "Only 10 drivers in history have done Le Mans more than that and I will be doing it with a great name like Lotus."
Bouchut, who raced a non-factory Audi R10 TDI for the same group that runs Lotus LMP2 in 2010, said he was not looking beyond this year's race.
"I am not thinking about how many Le Mans I can do," he continued.
"My goal when I went to Le Mans was to win and I did that in my first year. I would prefer not to race rather than racing just for racing's sake."
Bouchut is scheduled to contest further races with the Lotus LMP2 team on the occasions that other drivers are not available.
'MOST CAPPED' LE MANS DRIVERS

33  Henri Pescarolo (F)
30  Bob Wollek (F)
29  Yojiro Terada (J)
26  Derek Bell (GB)
25  Francois Migault (F)
23  Claude Ballot-Lena (F)
22  Claude Haldi (CH), Pierre Yver (F), Jan Lammers (NL)
21  Andy Wallace (GB)
20  Max Cohen-Olivar (MOR), David Hobbs (GB)
19  Jean-Claude Andruet (F), Christophe Bouchut (F)