| | |
| --- | --- |
| Riders say Ducati flattered by conditions at Le Mans | |
| | |
| --- | --- |
| By Sam Heath | Monday, May 20th 2013, 15:04 GMT |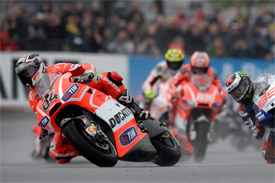 Ducati riders Andrea Dovizioso and Nicky Hayden believe Ducati was flattered by the adverse conditions of Sunday's MotoGP race at Le Mans.
Both men enjoyed their strongest performance of the season at the French track, coming home fourth and fifth respectively.
Dovizioso led eight laps of the race, having capitalised on his first front-row start with Ducati by seizing the initiative on a tentative first lap, and was only denied a podium on the penultimate lap.
While delighted with that performance, he cautioned that a wet Le Mans had played to Ducati's strengths.
Valentino Rossi captured only his second podium for Ducati in similar conditions last year.
"We have a really good bike in the wet, and I was first for the first half of the race," Dovizioso said.
"As long as the tyres were decent, I was able to manage the situation well.
"Unfortunately as the track dried the tyres began wearing a lot, and I wasn't able to fight with Cal [Crutchlow] and [Marc] Marquez.
"We have to be realistic, we still have some problems, but we were [also] really fast in the wet so we have to be happy."
Hayden, who slipped by Rossi when the Italian fell on lap 18, added: "The top five is our best result of the season, but for a while I thought I had a possibility to do something really good.
"I was closing on the lead group when they were battling with each other [and] really enjoyed that, especially when the track was pretty wet.
"Things got more difficult as it dried, but I was hanging in there.
"Still, there were moments this weekend when we showed more potential than we have all year."