Analysis: WTCC qualifying farce
| | |
| --- | --- |
| By Sam Tremayne | Monday, May 20th 2013, 14:15 GMT |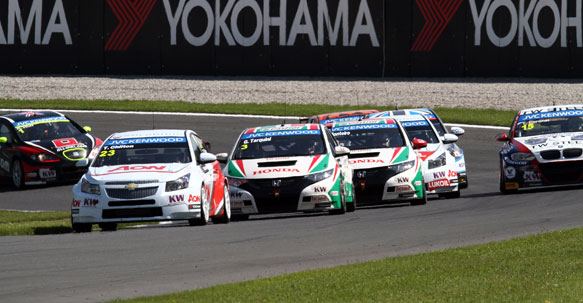 On Saturday, stewards handed out penalties and fines to 12 drivers after a comedic finish to World Touring Car qualifying at the Salzburgring, where the entire Q2 field contrived to miss the chance to post a final flying lap while joslting for the perfect slipstreaming position.
The final five minutes of World Touring Car qualifying were admittedly farcical, but the reaction of the FIA stewards only added to the pantomime played out in Austria.
The manner in which qualifying was conducted, with cars effectively playing cat-and-mouse in search of a perfect slipstream, needed address.
As comical as Q2 was, when speeds dropped as low as 32km/h and drivers en masse contrived to miss out on actually starting a lap, there were serious implications - particularly as such behaviour was also in evidence in Q1, despite almost double the cars and far more divergent strategies. Quite aside from the letdown of the show, it was foolhardy, even dangerous.
Fighting farce with farce was not the answer, however. And in meting out myriad penalties, based on individual but unexplained criteria, that was exactly what the stewards ensured happened.
How, for example, does Darryl O'Young stumbling across Q1 traffic merit a five-place grid drop (and a €1000 fine), when Michel Nykjaer doing likewise in Q2 did not even warrant a call-up?
Why was Rob Huff docked 10 grid slots and €1000, when Hugo Valente earned a €3000 fine but only a five-place penalty?
Of course the FIA has access to more data than the outside world, but it meted out the penalties with such heavy-handed authority, denying all right to appeal, that the entire process collapsed into a circus - and that was before considering all 14 drivers were parked in a corridor directly below the media centre, guaranteeing the most public airing of disagreements.
Perhaps most lamentably, the actual root problem – the importance of slipstreaming – has not been solved. What if, rather than staging an impotent run to the flag, drivers simply opt in future to sit out the final minutes? Where does that sit with the FIA's desire to safeguard the image of the WTCC?
AUTOSPORT asked the drivers for their take on Saturday's fallout.
Tiago Monteiro – demoted 12 places, fined €3000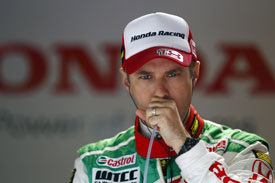 "We didn't get 12 drivers together and come to an agreement to spoil the show. There was a strategy behind it all, but something went wrong.
"OK it's not good, I agree. But it's the first time it has happened and I think we should have been discussing together how we prevent this. It's not because they penalised us that will stop it from happening again.
Yvan Muller – demoted 12 places, fined €3000
"I will not say anything about the penalties. We shouldn't forget though that we are the ones on the road making the show, taking the risks.
"Our speed was quite low for sure, but not much lower than a rolling start – that is 70km/h, here we were mostly between 50 and 60 and it was nothing dangerous. The clever thing is not to penalise people but to find a way that it will not happen again."
Tom Coronel – demoted 15 places, fined €4000
"The decision was very strange. Strategy wise I needed a slipstream. I have always raced like this, but it's something new for me that they can penalise it.
"They wanted to make a point, that's clear. But there are no yellow cards, there has never been a warning. This was strong – for me a bit too strong."
Rob Huff - demoted 12 places, fined €1000
"I am baffled with it, but more for the irregularity of the punishments than with the reasoning.
"If I, or anyone else, had gone [from the front of the pack], it could have been a brilliant finish to qualifying, a great spectacle, and nothing would have been done."
Marc Basseng – lost out to traffic and failed to make it through Q1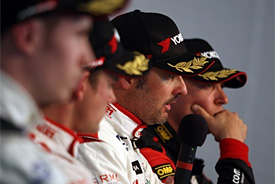 "I was on a really good lap, good enough for sixth on the projection, and I was caught by this first bunch of cars. It was hard to understand – qualifying is about going as fast as possible, and everybody needs the chance to do that.
"If somebody starts to do a good laptime, and is stopped by going slowly on track, that's not correct. That is the key point.
"I am happy the FIA punished really hard the drivers; in my eyes, this hurt the championship. Sometimes if you are in one series for a long time, you get into a certain way of thinking.
"Approaching this as a driver and a team boss – and Huff was hurt by these penalties – I would say the fines were correct. Aren't we meant to be making a show with a sporting value?"

The complete list of post-qualifying punishments:
Driver           Grid*    Penalty  Fine(€)
Yvan Muller         1     -12      3000
Tom Chilton         2     -12      3000
Rob Huff            3     -10      1000
Alex McDowall       4     -8       3000
Michel Nykjaer      5
Gabriele Tarquini   6     -24      6000**
Tiago Monteiro      7     -12      3000
Pepe Oriola         8     -16      6000**
Norbert Michelisz   9     -12      3000
James Nash          10    NFA
Stefano D'Aste      11    -5       1000
Tom Coronel         12    -15      4000**
Mehdi Bennani       13
Mikhail Kozlovskiy  14    NFA   
Fredy Barth         15
Franz Engstler      16
Marc Basseng        17
Hugo Valente        18    -5       3000
Darryl O'Young      19    -5       1000
James Thompson      20
Charles Ng          21
Rene Munnich        22
Fernando Monje      23

* As determined by qualifying, before application of penalties
** Penalties and fines handed out based on transgressions in Q1 and Q2
NFA = no further action