Brno Superstars: Thomas Biagi dominates race one
| | |
| --- | --- |
| By Andrew van Leeuwen | Sunday, May 19th 2013, 11:02 GMT |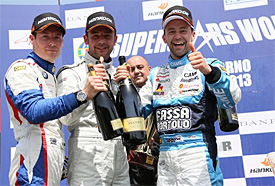 Thomas Biagi was in a class of his own on his way to victory in the first Superstars International Series race of the weekend at Brno.
The Romeo Ferraris Mercedes driver made a good getaway from pole position, but his early advantage was quickly negated when the safety car was deployed after a clash between Edoardo Piscopo, Massimiliano Fantini and Roberto Benedetti on the run to turn one.
When the race was restarted with 13 minutes left to go, Biagi picked right up where he left off, gapping the field by a second on the first lap before cruising to a 2.6s win - his second of the season.
With three minutes of the race left it looked like it was going to be a Romeo Ferraris 1-2, with Tonio Liuzzi looking comfortable in second. But a momentary loss of power on the second last lap was enough to cost Liuzzi a podium, last year's series runner-up eventually finishing fourth.
With Liuzzi slipping back, Luigi Ferrara was able to nab second place, his third podium in a row this year. The Roma Racing Mercedes driver was in the hunt thanks a storming start, which saw him jump from sixth to third on the run to turn one.
Giovanni Berton finished third for Dinamic BMW, after being the major beneficiary from Gianni Morbidelli's retirement. The Audi driver had been sitting third, only for his RS5 to suffer a gearbox failure inside the last minute of the timed race.
Fabrizio Giovanardi was fifth in the Petri Corse Porsche, after winning out in an early scrap with the Solaris Chevrolet of Francesco Sini and the Ferlito Jaguar of 'Diabolik' (Gian Maria Gabbiani).
Sini held on to finish sixth, while Dinamic BMW's Max Mugelli managed to pip Diabolik for seventh late in the race.
Meanwhile, Christian Klien found himself on the sidelines very early after being caught up in the first corner fracas.
The ex-Fprmula 1 driver's Giudici BMW suffered a puncture and a bent steering arm after playing a small part in the Fantini/Piscopo/Benedetti crash, resulting in an early shower. The car is expected to be fixed before the second race.
Results - 12 laps:

Pos Driver                Car                   Time/Gap
 1. Thomas Biagi          Ferraris Mercedes     28m49.817s
 2. Luigi Ferrara         Roma Mercedes          + 2.652s
 3. Giovanni Berton       Dinamic BMW            + 4.336s
 4. Tonio Liuzzi          Ferraris Mercedes      + 5.518s
 5. Fabrizio Giovanardi   Petri Porsche          + 7.945s
 6. Francesco Sini        Solaris Chevrolet      + 16.729s
 7. Max Mugelli           Dinamic BMW            + 17.335s
 8. 'Diabolik'            Ferlito Jaguar         + 27.619s
 9. Andrea Bacci          CAAL Mercedes          + 28.497s
10. Ferdinando Geri       Audi Italia            + 36.361s
11. Gianni Morbidelli     Audi Italia            + 3 laps

Retirements:

    Mauro Trentin         Dinamic BMW            4 laps
    Roberto Benedetti     RC Cadillac            4 laps
    Christian Klien       Giudici BMW            2 laps
    Max Fantini           Petri Porsche          0 laps
    Edoardo Piscopo       RGA BMW                0 laps
    Alessandro Battaglin  MRT Lexus              0 laps
    Andrea Larini         Ferlito Jaguar         0 laps