Imola ELMS: TDS duo Beche and Thiriet win after Jota battle
| | |
| --- | --- |
| By Gary Watkins | Saturday, May 18th 2013, 18:27 GMT |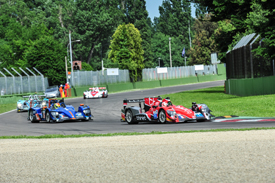 Reigning European Le Mans Series champions Mathias Beche and Pierre Thiriet claimed victory in the Imola 3 Hours for the TDS Racing squad.
Beche, who was racing the team's ORECA-Nissan 03 for the first time this season, and Thiriet were on top in a closely-fought battle with the Jota Sport when the Simon Dolan lost time when he spun the British team's Zytek-Nissan Z11SN in the final hour.
That allowed Thiriet to take a clear victory, nearly 50 seconds up on the Signatech Alpine team's ORECA-Nissan 03 shared by Nelson Panciatici and Pierre Ragues.
Beche said: "Pierre did an amazing job today, I am very proud of him. He had the pace on Dolan, so we deserved to win today."
The Morand Racing Morgan-Judd/BMW LMP2 came home third in the hands of Franck Mailleux and Natacha Gachnang, a lap down on the top two.
The Swiss team inherited the position when the Greaves Motorsport Zytek-Nissan shared by Tom Kimber-Smith and David Heinemeier Hansson was given a one-minute stop-go penalty for a pitlane infringement at its final pitstop.
The Greaves car ended up fifth behind the Race Performance ORECA-Judd/BMW shared by Patric Niederhauser and Michel Frey.
The Jota Sport Zytek, in which Oliver Turvey had led throughout the first stint, did not finish. Alternator failure resulting from Dolan's spin caused the car to stop out on the circuit with four minutes to go.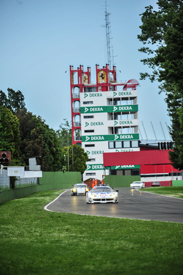 The new-for-2013 Ram Racing Ferrari team took its first victory in only its third race, and second in the ELMS, after Matt Griffin and Johnny Mowlem dominated the GTE class.
Griffin battled with the ProSpeed Porsche 911 GT3-RSR of Patrick Long for the first hour, only losing the lead on his final lap of his opening stint with a fuel-surge problem. He was subsequently able to move his Ferrari 458 Italia into a clear lead when Patrick Milesi took over the Belgian team's car.
Victory in the one-make LMPC class went to the Team Endurance Challenge ORECA-Chevrolet FLM09 shared by Gary Hirsch and Paul-Loup Chatin, which led the category from start to finish.
The Russian SMP Racing team's Ferrari 458 Italia shared by Kirill Ladygin, Victor Shaitar and Fabio Babini claimed GTC honours.
Results - 108 laps:

Pos  Cl     Drivers                          Team/Car                         Time/Gap
 1.  P2     Thiriet/Beche                    TDS ORECA-Nissan             3h00m13.017s
 2.  P2     Ragues/Panciatici                Signatech Alpine-Nissan         + 46.236s
 3.  P2     Gachnang/Mailleux                Morand Morgan-Judd               + 1 laps
 4.  P2     Frey/Niederhauser                Race Performance ORECA-Judd      + 1 laps
 5.  P2     Heinemeier Hansson/Kimber-Smith  Greaves Zytek-Nissan             + 1 laps
 6.  P2     Hartley/Patterson                Murphy ORECA-Nissan              + 3 laps
 7.  PC     Chatin/Hirsch                    Endurance FLM                    + 5 laps
 8.  GTE    Mowlem/Griffin                   Ram Ferrari                      + 6 laps
 9.  PC     Pons/Ayari                       Endurance FLM                    + 6 laps
10.  PC     Loan/Lecuyer                     Endurance FLM                    + 6 laps
11.  GTE    Perazzini/Cioci/Leo              AF Ferrari                       + 7 laps
12.  GTE    Jeannette/Montecalvo             Ram Ferrari                      + 7 laps
13.  GTE    Bertolini/Camathias              JMW Ferrari                      + 7 laps
14.  P2     Briere/Dagoneau/Hartshorne       Boutsen ORECA-Nissan             + 7 laps
15.  GTE    Ried/Roda/Ruberti                Proton Porsche                   + 7 laps
16.  GTE    Milesi/Long                      Imsa Porsche                     + 8 laps
17.  GTC    Babini/Shaitar/Ladygin           SMP Ferrari                      + 8 laps
18.  GTC    Rizzoli/Gai/Case                 AF Ferrari                       + 9 laps
19.  GTC    Millroy/Smith/Twyman             Ecosse BMW                      + 11 laps
20.  GTE    Mallegol/Bachelier/Blank         AF Ferrari                      + 11 laps
21.  GTC    Mediani/Zlobin/Rotenberg         SMP Ferrari                     + 11 laps
22.  GTC    Markozov/Evstigneev/Frolov       SMP Ferrari                     + 12 laps
23.  P2     Burgess/Hirschi                  HWM Status Lola-Judd            + 19 laps

Retirements:

     P2     Dolan/Turvey                     Jota Zytek-Nissan                101 laps
     GTC    Kox/Pronk                        Kox Lamborghini                   97 laps
     P2     Porta/Brandela/Delhez            DKR Lola-Judd                     89 laps
     GTC    Bader/Derdaele/Giermaziak        Megatron Audi                     60 laps
     GTE    Perrodo/Crubile                  Prospeed Porsche                  43 laps