Salzburgring WTCC: huge fines and penalties over qualifying finish
| | |
| --- | --- |
| By Sam Tremayne | Saturday, May 18th 2013, 18:10 GMT |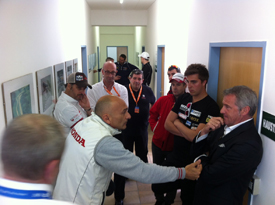 FIA stewards have handed out massive fines and grid penalties to myriad drivers following the comedic finish to World Touring Car qualifying at the Salzburgring.
The entire Q2 field ended up missing out on the chance to post a final flyer as they jostled for the perfect slipstreaming position, with speeds falling to as low as 32km/h.
Traffic, caused by drivers backing each other up, was also an issue in Q1.
Stewards called in 14 drivers - Yvan Muller, Tom Chilton, Rob Huff, Gabriele Tarquini, Norbert Michelisz, Mikhail Kozlovskiy, Alex MacDowall, James Nash, Tom Coronel, Tiago Monteiro, Hugo Valente, Stefano D'Aste, Pepe Oriola and Darryl O'Young - in the aftermath, saying the sport had been tarnished by the drivers' collective behaviour.
Drivers were seen on an individual basis by the stewards, and after several hours of delays and recriminations were then handed individual penalties.
For some that translated into massive fines and grid penalties. Tarquini was among the worst hit, docked €6,000 and 12 places on the grid.
Others, including Nash and Kozlovskiy, escaped any censure.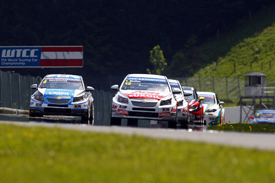 AUTOSPORT understands the penalties were handed out in accordance with Appendix L, Chapter IV, Article 2e of the FIA International Sporting Code, which states: "It is not permitted to drive any car unnecessarily slowly, erratically or in a manner deemed potentially dangerous to other drivers at any time."
It is believed teams do not have the right to appeal.
FIA World Touring Car promoter Marcello Lotti told AUTOSPORT he agreed there was a need to punish drivers in order to prevent future incidents of a similar nature. He emphasised the extremely low speed of drivers, while not fully off the racing line, as a particular concern.
A full list of punishments, and the new grids for Sunday, will be published shortly.