Brands Hatch European F3: Marciello beats Lynn in race two
| | |
| --- | --- |
| By Marcus Simmons | Saturday, May 18th 2013, 16:29 GMT |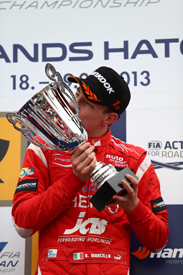 Ferrari junior driver Raffaele Marciello turned the tables on Alex Lynn by winning the second race of the Formula 3 European Championship weekend at Brands Hatch.
The Italian once again got a better start than poleman Lynn, but this time was able to sweep around the outside of the sister Prema Powerteam Dallara-Mercedes before turning into the first corner.
Championship leader Marciello's lead grew nearly to five seconds, but Lynn began to slash into the gap when the leader became mired in lapped traffic.
Once again there were several cases of baulking on the Indy circuit, and Roy Nissany and Tatiana Calderon were given drive-through penalties for ignoring blue flags.
Lynn got the gap down to 1.8s, but Marciello was able to build on that by one second before the chequered flag.
Lucas Auer once again completed an all-Prema podium. The Austrian ran Lynn close early on, but fell back to defend third place from the Ma-Con Dallara-Volkswagen of Sven Muller. The two finished close together, with Auer stuck behind a backmarker.
In fifth place, Felix Rosenqvist got pretty animated in the closing laps, the Mucke Motorsport Dallara-Mercedes driver shaking his fist at Andre Rudersdorf as sixth-placed Tom Blomqvist (EuroInternational Dallara-Mercedes) latched onto his gearbox.
Harry Tincknell led the Carlin flotilla in seventh, fending off Fortec Motorsport runner Josh Hill throughout the race.
Once again, UK drivers packed the lower reaches of the top 10, with Will Buller (T-Sport Dallara-Nissan) a comfortable ninth from Carlin's Jann Mardenborough, who kept Eddie Cheever at arm's length.
The other Briton, Jordan King, claimed 13th place after chasing Carlin team-mate Daniil Kvyat for most of what was a thoroughly processional race.
Results - 51 laps:

Pos Driver              Team/Car                        Time/Gap
 1. Raffaelle Marciello Prema Dallara-Merc              35m8.698s
 2. Alex Lynn           Prema Dallara-Merc              + 2.816s
 3. Lucas Auer          Prema Dallara-Merc              + 6.109s
 4. Sven Muller         Ma-con Dallara-VW               + 6.354s
 5. Felix Rosenqvist    Mucke Dallara-Merc              + 13.332s
 6. Tom Blomqvist       Eurointernational Dallara-VW    + 13.668s
 7. Harry Tincknell     Carlin Dallara-VW               + 15.762s
 8. Josh Hill           Fortec Dallara-Merc             + 16.220s
 9. Will Buller         T-Sport Dallara-Nissan          + 19.356s
10. Jann Mardenborough  Carlin Dallara-VW               + 21.719s
11. Eddie Cheever       Prema Dallara-Merc              + 22.949s
12. Daniil Kvyat        Carlin Dallara-VW               + 26.728s
13. Jordan King         Carlin Dallara-VW               + 27.617s
14. Lucas Wolf          URD Dallara-VW                  + 30.114s
15. Felix Serralles     Fortec Dallara-Merc             + 35.096s
16. Antonio Giovinazzi  Double R Dallara-Merc           + 35.924s
17. Dennis van de Laar  Van Amersfoort Dallara-VW       + 37.315s
18. Pipo Derani         Fortec Dallara-Merc             + 1 laps
19. Mitchell Gilbert    Mucke Dallara-Merc              + 1 laps
20. Andre Rudersdorf    Ma-con Dallara-VW               + 1 laps
21. Spike Goddard       T-Sport Dallara-Nissan          + 1 laps
22. Sean Gelael         Double R Dallara-Merc           + 1 laps
23. Roy Nissany         Mucke Dallara-Merc              + 1 laps
24. Sandro Zeller       Zeller Dallara-Merc             + 2 laps
25. Tatiana Calderon    Double R Dallara-Merc           + 2 laps
26. Michela Cerruti     Ferraris Dallara-Merc           + 2 laps
27. Nicholas Latifi     Carlin Dallara-VW               + 3 laps