NASCAR All-Star: Carl Edwards and Roush Fenway earn pole
| | |
| --- | --- |
| | Friday, May 17th 2013, 23:19 GMT |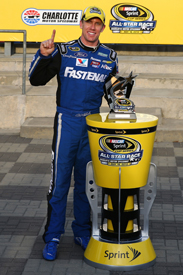 Carl Edwards and Roush Fenway claimed pole position for Saturday night's non-championship NASCAR All-Star race at Charlotte as the new qualifying system proved a hit.
Drivers had to complete three flying laps including a mandatory four-tyre-change pitstop to set a qualifying time.
While that fitted usual All-Star practice, the quirk for 2013 was that pitlane speed limits were removed, meaning drivers could charge flat out into and out of their pit boxes.
To ensure safety, crews were not permitted over the wall until each car was at a stand.
Edwards and Roush's total time was a 1m11.297s, nearly a second clear of nearest rival Dale Earnhardt Jr and Hendrick.
But Earnhardt was one of four drivers given five-second penalties for pit rule infringements, in his case a missing lugnut.
That dropped the Hendrick Chevrolet to 15th, and moved long-time provisional polesitter Kurt Busch back onto the front row.
Edwards' team-mate Greg Biffle will starts between Kurt and brother Kyle Busch in third.
Inevitably the new system caused some thrills, with several drivers overshooting their pit areas or having to cope with wild moments under braking in the pitlane.
Joey Logano came off best of those making mistakes. The Penske driver was still fifth, 1.7s slower than Edwards, leaving Logano convinced that he would have been on pole had he not slipped up in the pits.
Among the penalised drivers at the rear of the field, Jimmie Johnson was first to slide through his pit and have to reverse, meaning he was the slowest driver on pure time even before his penalty.
Kevin Harvick's run was disallowed altogether as he was serviced outside the Childress pit area after overshooting. Event rules demand that drivers are brought back into the designated team area before getting service.
Harvick had been due to drop to the tail of the field in any case as he had switched to a back-up car after a practice engine failure.
The 19 drivers who qualified straight into the All-Star race will be joined by three who progress through the Showdown qualifying race. The top two Showdown finishers and the winner of a fan vote will gain the final spots on the All-Star grid.
Earnhardt Ganassi had looked set for a front-row sweep in Showdown qualifying with Jamie McMurray and Juan Pablo Montoya, before Waltrip Toyota driver Martin Truex Jr - the last man in the running order - snatched pole away.
All-Star qualifying:

Pos  Driver             Team/Car                 Time       Gap
 1.  Carl Edwards       Roush Fenway Ford        1m11.297s
 2.  Kurt Busch         Furniture Row Chevrolet  1m12.447s  + 1.150s
 3.  Greg Biffle        Roush Fenway Ford        1m12.706s  + 1.409s
 4.  Kyle Busch         Joe Gibbs Toyota         1m12.754s  + 1.457s
 5.  Joey Logano        Penske Ford              1m12.991s  + 1.694s
 6.  Clint Bowyer       Waltrip Toyota           1m13.595s  + 2.298s
 7.  Denny Hamlin       Joe Gibbs Toyota         1m13.719s  + 2.422s
 8.  Mark Martin        Waltrip Toyota           1m14.001s  + 2.704s
 9.  Kasey Kahne        Hendrick Chevrolet       1m14.032s  + 2.735s
10.  Jeff Gordon        Hendrick Chevrolet       1m14.336s  + 3.039s
11.  Ryan Newman        Stewart-Haas Chevrolet   1m14.716s  + 3.419s
12.  Brad Keselowski    Penske Ford              1m14.989s  + 3.692s
13.  Tony Stewart       Stewart-Haas Chevrolet   1m15.379s  + 4.082s
14.  David Ragan        Front Row Ford           1m15.778s  + 4.481s
15.  Dale Earnhardt Jr  Hendrick Chevrolet       1m17.190s  + 5.893s*
16.  Matt Kenseth       Joe Gibbs Toyota         1m20.051s  + 8.754s*
17.  Marcos Ambrose     Petty Ford               1m22.055s  + 10.758s*
18.  Jimmie Johnson     Hendrick Chevrolet       1m24.462s  + 13.165s*
19.  Kevin Harvick      Childress Chevrolet

* 5s penalty for pit infringement
 Format: three laps including pitstop

Showdown qualifying:

Pos  Driver              Team/Car                     Time     Gap
 1.  Martin Truex Jr     Waltrip Toyota               27.918s
 2.  Jamie McMurray      Earnhardt Ganassi Chevrolet  28.023s  + 0.105s
 3.  Juan Pablo Montoya  Earnhardt Ganassi Chevrolet  28.075s  + 0.157s
 4.  Ricky Stenhouse Jr  Roush Fenway Ford            28.084s  + 0.166s
 5.  Casey Mears         Germain Ford                 28.290s  + 0.372s
 6.  Jeff Burton         Childress Chevrolet          28.398s  + 0.480s
 7.  Danica Patrick      Stewart-Haas Chevrolet       28.412s  + 0.494s
 8.  Paul Menard         Childress Chevrolet          28.442s  + 0.524s
 9.  JJ Yeley            Baldwin Chevrolet            28.504s  + 0.586s
10.  Landon Cassill      Circle Sport Chevrolet       28.577s  + 0.659s
11.  Bobby Labonte       JTG Daugherty Toyota         28.599s  + 0.681s
12.  Aric Almirola       Petty Ford                   28.612s  + 0.694s
13.  Scott Riggs         Xxxtreme Ford                28.635s  + 0.717s
14.  David Gilliland     Front Row Ford               28.695s  + 0.777s
15.  Michael McDowell    Leavine Ford                 28.770s  + 0.852s
16.  David Reutimann     BK Toyota                    28.810s  + 0.892s
17.  Mike Bliss          Humphrey Smith Toyota        28.830s  + 0.912s
18.  Travis Kvapil       BK Toyota                    28.875s  + 0.957s
19.  Dave Blaney         Baldwin Chevrolet            28.924s  + 1.006s
20.  Timmy Hill          FAS Lane Ford                29.054s  + 1.136s
21.  Joe Nemechek        NEMCO Toyota                 29.346s  + 1.428s
22.  David Stremme       Swan Toyota                  29.385s  + 1.467s
23.  Brian Keselowski    Keselowski Toyota            29.759s  + 1.841s