New engines key to Honda's Formula 1 return
| | |
| --- | --- |
| By Edd Straw | Thursday, May 16th 2013, 07:50 GMT |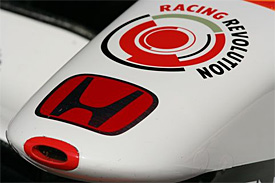 Honda's decision to return to Formula 1 was motivated by the potential for technology transfer to road cars offered by the switch to 1.6-litre turbocharged engines.
The new engine formula will be introduced next year, with Honda taking over from Mercedes as McLaren's engine supplier from 2015.
Honda president Takanobu Ito confirmed that the 'green' technologies being adopted by F1 were key to its comeback.
"Formula 1 is about to introduce new regulations that require a downsized engine with a turbocharger and energy recovery systems, which fits better with environmental technologies for mass-production vehicles," said Ito at a press conference announcing Honda's return.
"As a result, more than ever we can expect more feedback from racing machines to mass-production vehicles and some feedback from mass-production vehicles back to racing machines.
"As we started to see a better match between the new direction of F1 and the direction of Honda's product development, our young engineers who will shape the future of Honda began expressing their passion to take on the new challenge of Formula 1 racing."
Ito added that the F1 return is important for Honda's image worldwide.
He believes that motor-racing has played a key role in Honda's road car sales.
"Ever since its establishment, Honda has been a company which grows by participating and winning in racing," said Ito.
"We must re-acknowledge the fact that so many fans and customers around the world supported us precisely because they were inspired by a Honda that challenges and wins in racing."
Ito added that he hopes Honda will start winning "as soon as possible" and admitted that the failure of Honda's previous F1 foray first as an engine supplier and then as a full works team from 2000-2008.
"Personally, it was very disappointing that we had to withdraw from Formula 1 the last time without accomplishing satisfactory results," he said.
"I regret that we could not meet the expectations of our fans."