| | |
| --- | --- |
| Hector Barbera says coverage of assault 'misjudged the truth' | |
| | |
| --- | --- |
| By Sam Tremayne | Monday, May 13th 2013, 14:26 GMT |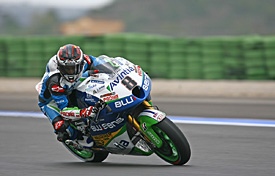 Hector Barbera insists reports that he attacked his girlfriend on the Thursday night after MotoGP's Jerez race 'seriously misjudged the truth' of the fracas.
Barbera admitted that he had caused his partner injury, but insists he too was 'affected and assaulted.'
The 26-year-old was detained following a reported domestic incident in the Spanish city, where local media report his girlfriend is from.
Barbera, riding for the Avintia CRT squad, had finished 12th at the Spanish track on Sunday.
According to the official MotoGP website, Barbera has been instructed to carry out community service, with his girlfriend handed a suspended sentence due to a previously clean record.
On Monday Barbera confessed in a statement that he had injured his partner, although he railed against the tone of what had been immediately reported.
"I am not proud of what happened, so I apologise right now to all of those it is necessary and especially my family, friends and colleagues from my team who genuinely know me well," the statement read.
"In this process, assuming my responsibilities, I feel (and the court agrees) that I was also affected and assaulted.
"Following the complaints that have been put forward, I have followed the protocol in-line with these types of situations.
"Once both parties had put forward their court statements they were visited by forensic experts, who confirmed the injuries caused by myself, but out of respect I am [not] going to give more details on this. Subsequently, both parties accept the decision of the Court of Jerez.
"Alongside my partner, I have attempted this resolution, not just to end the trial but also the unjust treatment that I have suffered both socially and in the media, so undeservingly as many accusations have seriously misjudged the truth; unjust evaluations have been made towards me, based on mere rumours.
"I have two sisters, I grew up with them as the only boy and we were always together; it would never occur to me to hurt a woman or anybody else. I am totally against the abuse of both women and men.
"I consider this a very sensitive issue and that many women are genuinely suffering from such things, so I believe this particular case is taking advantage of the laws protecting them.
"From this moment onwards I consider the matter settled and have the firm intention to continue as usual with my sporting career, referring any future clarifications to my legal department.'"
The fourth round of the 2013 championship takes place at Le Mans this weekend (May 17-19).