Hamilton desperate to find cure for Mercedes' tyre problems
| | |
| --- | --- |
| By Jonathan Noble | Monday, May 13th 2013, 14:00 GMT |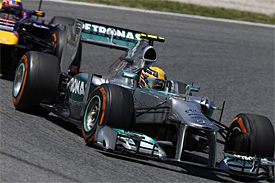 Lewis Hamilton says no stone will be left unturned when he visits the Mercedes factory later this week for a brainstorming session to cure the team's tyre woes.
The former world champion has a previously scheduled promotional appearance for a sponsor in Florida first, but he believes the trip to Brackley is now an essential after his disappointing Spanish Grand Prix.
Having locked out the front row of the grid, Hamilton and team-mate Nico Rosberg were powerless to stop themselves slipping down the order as they struggled to make their tyres last yet again.
"I have a trip to Orlando first, and then after that I need to get back into the factory," said Hamilton. "It is not rocket science I don't think.
"I don't know why it has taken us so long to get hold of it, as clearly Ferrari has and Lotus has obviously figured it out.
"We just need to do it, and I am sure we will at some point. I think we all need to just pull together, which we have been doing all year.
"But now it is more important than ever, particularly after a race like this. We have to take a step back, look at what happened objectively and try and figure it out."
Hamilton said the team did not have a firm answer yet as to why its car is so strong in qualifying and so weak in the races.
"We don't understand what it is. It is obviously the tyres. It is just something we have had a long discussion about and we have to understand where we went wrong and how we can improve it for the upcoming races.
"It is something to do with how you prepare the tyres or use the tyres, or something like that.
"It seemed to work quite well in Bahrain but it didn't work well here, so it is something we haven't quite caught on to yet."
Hamilton also suggested that the matter could go as deep as to how the tyres are prepared before they even hit the track.
"I think it is what we do before we get in the car," he suggested.