Denny Hamlin says back no issue on return from injury
| | |
| --- | --- |
| By Sam Tremayne | Monday, May 13th 2013, 10:16 GMT |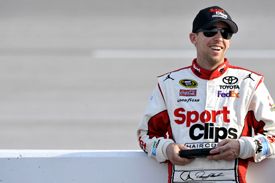 Denny Hamlin says he was not troubled by any back issues after completing his first full race distance since sustaining an L1 compression fracture seven weeks ago at Fontana.
After missing four consecutive NASCAR Sprint Cup races due to his injury, the 32-year-old finished runner-up to Matt Kenseth at Darlington on Saturday.
While he conceded he had struggled physically following his enforced absence, Hamlin said the fact he suffered no major issues with his back was a major boost to his overall championship hopes.
"I definitely didn't feel any back pain; for us, it was good," Hamlin reported after the Darlington 500-miler.
"My back held up good, it was just more stamina that I had issues with. I'm more sore, shoulders, neck, things like that. I've got to get back in racing shape.
"There are some muscles that have got weak. I've got pretty sore and tired, mentally tired as well.
"But it just takes a while. Really it's like starting your season over, and it feels good to just be competitive again."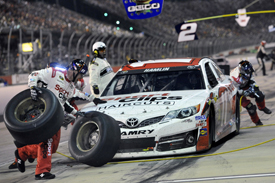 Hamlin said he had been driving in 'defence mode' for much of the race at Darlington, and that second - which came after he gained five spots in the closing laps – was the absolute maximum he could have achieved.
"We didn't run as strong as what I hoped throughout the day, [but] we ran good," he explained.
"We kept grinding away. It was one of those days where we got our car better, the pit crew picked us up positions, took us to the most optimum spot we could get to, and that was second."
After finishing second, Hamlin now sits 27th overall in the Cup standings. He was sixth before his Fontana injury.