Laguna Seca ALMS: Pickett's Luhr/Graf beat Rebellion's Heidfeld/Jani
| | |
| --- | --- |
| | Sunday, May 12th 2013, 03:48 GMT |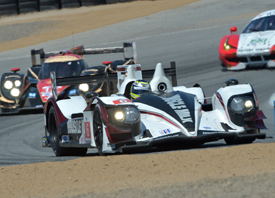 Pickett HPD duo Klaus Graf and Lucas Luhr came out on top in a race-long duel with Nick Heidfeld and Neel Jani's Rebellion Lola-Toyota to win the four-hour American Le Mans Series event at Laguna Seca.
The two cars swapped the lead both on track and in the pitlane numerous times during the race, but the crucial moment came when they made contact in the final hour.
Luhr and Jani came together in traffic at Turn 3, giving the Rebellion Lola a left-front puncture.
The race officials were satisfied that the incident did not merit a penalty, leaving Luhr free to bring the Pickett car home for a second straight victory.
Jani and Heidfeld were still able to take second, too far down the traffic line to make a late bid at a restart with one lap to go after the expiring DeltaWing had prompted a final caution period.
The Dyson Lola-Mazda dropped out with fuel pressure problems.
Level 5 took a one-two in LMP2, Marino Franchitti's car leading home Ryan Briscoe's. Team boss Scott Tucker had stints in both.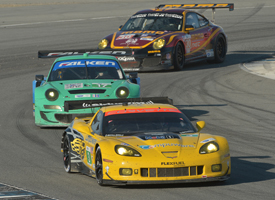 The GT fight was typically close, with eight cars still in lead contention at the halfway mark.
Corvette duo Jan Magnussen and Antonio Garcia ultimately stamped their authority on the race in the final stint, defeating the Bryan Sellers/Wolf Henzler Falken Porsche and the Dirk Muller/John Edwards BMW.
Both one-make classes were decided in last-lap lead changes.
LMPC leader Colin Braun slipped up at the final-lap restart, allowing Luis Diaz, who shared his PR1/Mathiasen car with Mike Guasch, to pounce and snatch the win from the CORE entry.
Andy Lally appeared to have Dempsey/Del Piero's first win wrapped up in GTC, only for Nick Tandy to overtake him at Turn 5 on the last lap, securing victory for the Tandy/Henrique Cisneros NGT Porsche.
Results - 150 laps:

Pos  Cl   Drivers                  Team/Car                       Time/Gap
 1.  P1   Graf/Luhr                Pickett HPD                3h59m05.504s
 2.  P1   Heidfeld/Jani            Rebellion Lola-Toyota          + 6.352s
 3.  P2   Tucker/Franchitti        Level 5 HPD                    + 4 laps
 4.  P2   Tucker/Briscoe           Level 5 HPD                    + 4 laps
 5.  PC   Guasch/Diaz              PR1/Mathiasen FLM              + 5 laps
 6.  PC   Bennett/Braun            CORE FLM                       + 5 laps
 7.  PC   Nunez/Shears             Performance Tech FLM           + 6 laps
 8.  PC   Marcelli/Cumming         BAR1 FLM                       + 6 laps
 9.  GT   Magnussen/Garcia         Corvette                       + 8 laps
10.  GT   Henzler/Sellers          Falken Porsche                 + 8 laps
11.  GT   Muller/Edwards           RLL BMW                        + 8 laps
12.  GT   Sweedler/Bell            West/AJR Ferrari               + 8 laps
13.  GT   Farnbacher/Goossens      SRT Viper                      + 8 laps
14.  PC   Schultis/van der Zande   8Star FLM                      + 8 laps
15.  GT   Miller/Holzer            Miller Porsche                 + 8 laps
16.  P2   Sharp/Cosmo              Extreme Speed HPD              + 8 laps
17.  PC   Drissi/Mitchell          BAR1 FLM                       + 9 laps
18.  GT   Long/Kimber-Smith        CORE Porsche                  + 10 laps
19.  GT   Beretta/Malucelli        Risi Ferrari                  + 11 laps
20.  GTC  Cisneros/Tandy           NGT Porsche                   + 13 laps
21.  GTC  Dempsey/Lally            Dempsey/Del Piero Porsche     + 13 laps
22.  GTC  MacNeil/Bleekemolen      Alex Job Porsche              + 13 laps
23.  GTC  Keating/Faulkner         TRG Porsche                   + 13 laps
24.  GTC  Hedlund/Heylen           JDX Porsche                   + 13 laps
25.  GTC  Avenatti/Davis           Dempsey Del Piero Porsche     + 13 laps
26.  GT   Gavin/Milner             Corvette                      + 14 laps
27.  GTC  Stanton/Novich           TRG Porsche                   + 15 laps
28.  GTC  Canache/Pumpelly/Neiman  Flying Lizard Porsche        + 16 laps*
29.  PC   Junqueira/Ende           RSR FLM                       + 18 laps
30.  GTC  Ehret/von Moltke         Flying Lizard Porsche         + 21 laps
31.  GTC  Ballou/Wagner            Competition Porsche           + 28 laps

* Not running at finish

Retirements:

     P1   Meyrick/Legge            DeltaWing                      104 laps
     GT   Auberlen/Martin          RLL BMW                         85 laps
     P2   Brown/van Overbeek       Extreme Speed HPD               64 laps
     P1   Dyson/Smith              Dyson Lola-Mazda                21 laps
     GT   Bomarito/Wittmer         SRT Viper                       12 laps