Kurt Busch keen on Indianapolis 500 after test but not ready yet
| | |
| --- | --- |
| By Mark Glendenning | Thursday, May 9th 2013, 19:02 GMT |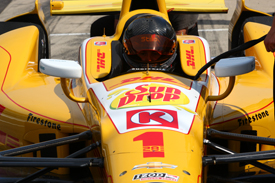 NASCAR Sprint Cup star Kurt Busch says his IndyCar test with Andretti has left him open to a possible Indianapolis 500 campaign in the future, although he cautioned that a lot of work would have to be done before he feels ready.
Busch drove IndyCar champion Ryan Hunter-Reay's car to complete the full Indy 500 rookie orientation programme at Indianapolis Motor Speedway on Thursday, achieving average speeds of 218 mph.
The 2004 Cup champion admitted that he is intrigued by the idea of tackling the Indy 500/Coca Cola 600 double, which has previously only been attempted on the same day by John Andretti, Robby Gordon, and Tony Stewart.
But he said that his concern over the mental strain of competing in two long-distance events back-to-back, coupled with the physical demands of driving the IndyCar, had proven to him that he is not yet ready to do so.
"When you have the guys that want to do the double, they're the ones who aren't the smartest, I guess, because honestly it's very difficult to run at your peak performance for the Coca Cola 600," he said.
"A driver can race here at Indianapolis, do the full 500 miles, and that needs to be the end of his day. To run another 600 miles after that... you've got to pace yourself.
"I honestly think that I really wouldn't be able to do it this year, just through stamina. I need to get more comfortable in the IndyCar.
"A day like today, I was white-knuckled - my hands were tense, and that was only after 10 laps."
Busch believes that his chances of successfully running both races in the future would depend on getting more time in an IndyCar, ideally in a race.
"To try to crawl then walk, and walk then run... I think the proper thing is to go out and experience this car at another oval track, and get into a race, and experience the buffeting and the movement of the car when all the downforce changes," he said.