Sebastien Loeb amazed by Pikes Peak Peugeot after first run
| | |
| --- | --- |
| By David Evans | Thursday, May 9th 2013, 13:43 GMT |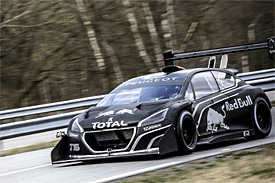 Sebastien Loeb has tested the Peugeot 208 T16 Pikes Peak for the first time, the Frenchman admitting he was amazed by how fast the car is.
Loeb, who will compete in the event for the first time this year, drove the car at a test track in north-west France earlier this week.
The nine-time World Rally champion said: "I've never driven anything that accelerates so fast. The 208 T16 Pikes Peak is a rocket.
"It's so powerful. The first time you drive it, each gearchange practically stuns you.
"The shifts are brutal and it takes a little time to anticipate the sudden jarring. You get used to it, but it was quite disorientating to begin with."
Loeb said he was not only impressed by the power but also by the performance of the brakes and aerodynamics.
"Due to its aerodynamic downforce and wide tyres, its braking is amazing, too," he said.
"The 208 package is a combination of the best of several worlds: it's got the downforce of a Formula 1 car, the wide tyres of an endurance racing prototype and a differential, like a WRC car.
"In the lower gears, a Formula 1 car doesn't deliver maximum power. With the Peugeot, though, it's bang, bang, bang as you move up the box from standstill.
"Due to its four-wheel drive transmission and turbocharged engine, its pull-away performance is phenomenal. You find yourself in sixth gear at 150mph in no time at all!"
Peugeot's test programme for the one-off car will continue on a variety of race tracks and roads at altitude as it prepares for the June 30 event.
"I really can't wait to get to drive the 208 T16 Pikes Peak in Colorado," added Loeb.