Jenson Button and Sergio Perez 'understand' McLaren rivalry rules
| | |
| --- | --- |
| By Peter Farkas | Tuesday, April 30th 2013, 12:55 GMT |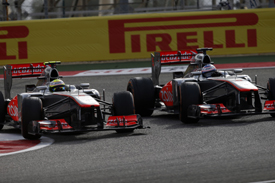 Jenson Button sees no need for his McLaren bosses to get involved in any of his future on-track tussles with Sergio Perez, despite their clash at the Bahrain Grand Prix.
Button and Perez criticised each other after a frenetic fight for position at Sakhir, which included the pair making contact on a couple of occasions.
As revealed by AUTOSPORT, the two drivers met with McLaren boss Martin Whitmarsh and sporting director Sam Michael immediately after the Bahrain race to clear the air over the matter.
Button thinks that get-together was vital, and is confident that he and Perez now both understand what is acceptable so that they can be left alone to sort matters out between themselves in future.
"After the race it was important to sit down with the team and Checo and for us all to talk about the race, get it out and move on," Button told selected media, including AUTOSPORT, during a promotional visit to Hungary this week.
"I think we're very lucky that we were allowed to race. There are a lot of teams where team-mates aren't allowed to race. But we'd better respect that decision and not take advantage of it.
"That's something that we all understand now. Hopefully we can be racing in Barcelona: fighting cleanly and hopefully for the win, not for sixth or seventh."
Button also believes that the situation between himself and Perez was built up into something bigger than it appeared because his radio messages were broadcast on television.
"The problem with the radio is that my message is not meant for the masses, it's meant for the team," explained the 2009 world champion, who said he did not intend his comments to be made public.
"In a way it's a pity that TV companies just choose the messages they want, because they can come across in the wrong way.
"I was obviously angry, but the anger was supposed to be kept within the team, because I am radioing the team, I'm not radioing TV companies."
CAR PROGRESS BUTTON'S MAIN CONCERN
Button insists his biggest concern is not how things pan out on track with Perez, but whether McLaren can deliver the step forward it needs with its updates for the Spanish GP.
"In terms of our results, they haven't been good. But in terms of the direction we're going with the car, I think it's very good," he said.
"We have some new parts for Barcelona which should help us, and we can build on them in future races. But the points need to start coming soon, we understand that."