Montalegre European Rallycross: Doran wins as Solberg is third
| | |
| --- | --- |
| By Hal Ridge | Sunday, April 28th 2013, 16:24 GMT |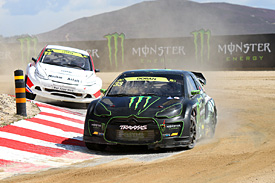 Liam Doran took victory in the Supercar final at the second round of the European Rallycross Championship, held at Montalegre in Portugal.
The final took two attempts to start after Petter Solberg made a false start, forcing the grid to be regrouped.
Doran made a brilliant start from the second row at the restart and was first to the first corner.
He headed straight for his joker lap, and after being followed through by Alexander Hvaal ran fourth in the pack on the first lap.
Timur Timerzyanov took the lead at the first corner, but at the same place on the second lap Solberg got a good run on the Russian and dived down the inside.
The pair made contact, resulting in a front right puncture for Timerzyanov that ruled him out of contention.
Mats Lysen inherited second, and after taking his joker lap on the fourth tour, returned to the main circuit just behind Doran.
Solberg meanwhile pulled out an incredible lead, took his first of two joker laps on lap five and returned in the lead, just ahead of Doran.
Taking his second joker - the penalty for his false start - on the final lap, Solberg returned to the main circuit behind Doran and Lysen, where they would stay until the finish, ahead of Hvaal in fourth and Davey Jeanney in fifth, with the wounded Timerzyanov sixth.
"I drove my heart out today," Doran said.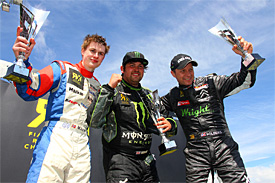 "This makes up for all the hard work over the winter in setting up my own team.
"I really wasn't expecting to win today after a few problems we had with the car in qualifying."
Swedish 16-year-old Kevin Eriksson took victory in Super1600, with fellow countryman Robin Larsson taking the win the in the Touring Car category.
Pos Driver               Car              Time/Gap
 1. Liam Doran           Citroen DS3      4m09.638s
 2. Mats Lysen           Renault Clio     + 0.8s
 3. Petter Solberg       Citroen DS3      + 0.8s
 4. Alexander Hvaal      Citroen DS3      + 0.6s
 5. Davey Jeanney        Citroen C4       + 0.7s
 6. Timur Timerzyanov    Citroen DS3      + 13.1s