NASCAR drops single-car qualifying on road courses
| | |
| --- | --- |
| By Mark Glendenning | Tuesday, April 23rd 2013, 08:20 GMT |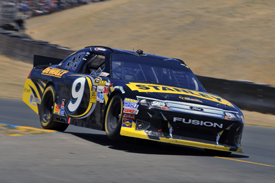 The NASCAR Sprint Cup will adopt the group-based road course qualifying procedure that is used in the Nationwide and Touring Series for its upcoming races at Sonoma and Watkins Glen.
Under the new system, the oval-style single-car qualifying runs will be replaced by having the cars go out to qualify in groups.
"The change will add an exciting element to road-course qualifying," said Robin Pemberton, NASCAR vice president of competition. "Fans will be treated to new strategy and increased competition with several cars on track at once."
The number and size of the groups will be determined by how many cars practice for the race, with cars being allocated to groups based on their final practice times.
Each group will be on track for a still-to-be-determined amount of time, with their best lap from that session serving as their qualifying lap.
"This is going to be a terrific new format for our NASCAR weekend," said Steve Page, president and general manager of Sonoma Raceway. "It will intensify the action, with multiple cars on the track at the same time. It's a very positive development for our fans."
The new format will be used for the first time at Sonoma on June 23, and will return at Watkins Glen on August 11.