Fourth Audi entered for Le Mans test will be for 2014 tyre work
| | |
| --- | --- |
| By Gary Watkins | Friday, April 19th 2013, 11:09 GMT |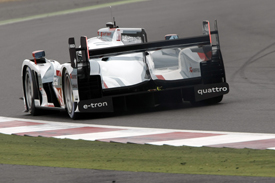 The additional car Audi has entered for the Le Mans test day in June will be used to gather data to help Michelin develop tyres for the next generation of LMP1 prototype.
The fourth Audi R18 e-tron quattro, which is not participating in the 24 Hours two weeks after the test on June 9, will be set up to simulate the aerodynamic and axle loads of an LMP1 car built to the 2014 rulebook.
The Audi will be equipped with measuring equipment to provide data for the development of the 2014 Michelins, which will be two inches narrower and slightly smaller in diameter than the current tyres by regulation.
Audi Sport boss Wolfgang Ullrich said: "Our objective is to generate a database for handling the future tyres that is as versatile and reliable as possible.
"The impending technological change is fundamental. Therefore, we are providing all the data being gathered to our long-standing partner Michelin as well."
The 2014 rules will allow energy-retrieval on both front and rear axles, rather than one or either at present, and will also mandate a five per cent or 100mm overall width reduction of the cars.
The fourth R18 will be driven by test and reserve driver Marco Bonanomi and run by Audi Sport's test team.
This year's test day offers the only opportunity to test a car on the high-speed 8.47-mile Circuit de la Sarthe, of which more than two thirds is made up of public roads, ahead of the start of the 2014 World Endurance Championship.