Esteban Gutierrez says he learned big lesson from China collision
| | |
| --- | --- |
| By Edd Straw and Pablo Elizalde | Thursday, April 18th 2013, 13:26 GMT |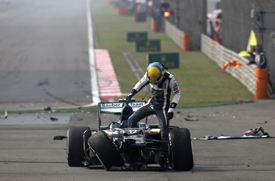 Esteban Gutierrez says he will make sure there is no repeat of the type of accident that put him out of the Chinese Grand Prix last weekend and earned him a Bahrain grid penalty.
The Sauber driver crashed into the back of the Force India of Adrian Sutil five laps in the race after misjudging his braking point.
Gutierrez was handed a five-place grid penalty for the Bahrain Grand Prix as a result of the crash.
The rookie said the penalty was fair considering his error, but has vowed to learn from it so it does not happen again.
"The grid penalty is something that is part of the mistake and something which I see in a fair way, respectful to the stewards' decision," said Gutierrez in Bahrain.
"I should have anticipated it a little bit more considering that Adrian had option tyres and probably more degraded as well and I should have considered this in order to anticipate a little bit on the braking.
"It's happened to every driver and I will make sure it will not happen again."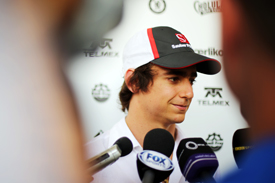 Gutierrez, the youngest driver on the grid at 20, believes the learning curve in Formula 1 is made steeper by the lack of running given the limited amount of tyres available for practice.
"It comes down to the fact that there is a part of practice that is not being used. For us, as rookie drivers, it would made sense to have an extra set of tyres to have more running," he said.
"If we can use that extra part of practice I think it's beneficial for everyone."
As reported by AUTOSPORT this week, teams running rookie drivers in first practice are set to get an extra set of tyres from the Spanish Grand Prix onwards.