Le Mans to recreate original track layout for 90th anniversary
| | |
| --- | --- |
| By Gary Watkins | Wednesday, April 17th 2013, 13:35 GMT |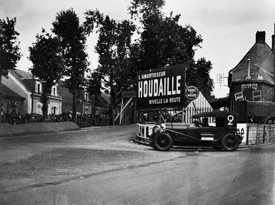 A section of the original layout of the Le Mans 24 Hours circuit will be recreated as part of the 90th anniversary celebrations of the French endurance classic.
The roads at the Pontlieue Hairpin, the most northerly point of the first layout of the Circuit de la Sarthe used from 1923-1928, will be returned to their 1920s glory for the week of this year's 24 Hours in June.
The famous hairpin, which will be dressed with period barriers and advertising hoardings, will host a special event on the Tuesday ahead of the race on June 22-23 with an exhibition of cars that raced at Le Mans in the 1920s.
The recreation of the Pontlieue Hairpin is one of a number of events planned to celebrate the 90 years since the first Le Mans 24 Hours.
The Automobile Club de l'Ouest, which runs the 24 Hours, has announced the 11 cars, chosen by a special jury, that best embody the spirit of Le Mans. An example of each will undertake a lap on the morning of the race to escort the new trophy for the 24 Hours around the circuit.
The ACO will also be bringing the surviving multiple winners of the event with four victories or more together for a special celebration at the Pompidou Centre in Paris on May 31.
The rich history of the endurance race is also being celebrated in six of the countries visited by this year's World Endurance Championship, of which Le Mans is the blue-riband round.
The oldest surviving Le Mans competitor from Britain, Belgium, France, Brazil, the USA and Japan will be inducted into a Hall of Fame. Ninety-three-year-old Briton Eric Thompson, who started Le Mans seven times from 1949, was the first inductee at last weekend's Silverstone WEC round.