McLaren urges Sergio Perez to up his game and be tougher on track
| | |
| --- | --- |
| By Jonathan Noble | Monday, April 15th 2013, 11:58 GMT |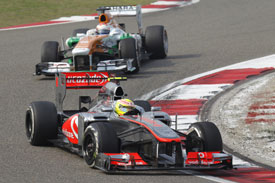 McLaren team boss Martin Whitmarsh says Sergio Perez knows he needs to up his game this season, and he has urged the Mexican to be tougher on track.
Perez was criticised by rivals Kimi Raikkonen and Lewis Hamilton in China for some aggressive defensive moves, on a weekend when he struggled against team-mate Jenson Button.
Whitmarsh says neither Perez nor the team are shying away from the situation, but he sees no reason to panic just yet.
"Sergio is not satisfied with his performance this weekend," said Whitmarsh. "He is a young driver and he had a difficult weekend.
"We haven't given him a great car so far, and he is up against someone like Jenson who has done a fantastic job with the car we have given him.
"We, as a team, have to step up and support a young driver who has an enormous amount of talent.
"And with these tyres that are very fragile, with a car that is not quite there and with tricky racing, he did a reasonable job.
"But he is not satisfied with himself and nor should he be."
Whitmarsh did not concur with views that Perez had been too hard on his rivals in defending on track, saying that he wants him to be even more aggressive.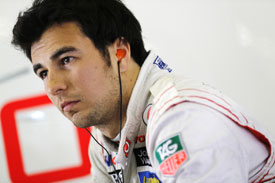 "I think he has been very polite so far, and he needs to toughen up," said Whitmarsh.
"He has been generous in allowing people past him and I think he was a bit more robust in China.
"Inevitably, he is still a very young guy in a big team with lots of expectations. There is a lot more scrutiny and he has a team-mate who is doing a great job.
"There is some pressure there and this will not go down as his best weekend of the year."