Mercedes motorsport boss Toto Wolff plans to sell Williams shares
| | |
| --- | --- |
| By Jonathan Noble | Monday, April 15th 2013, 09:32 GMT |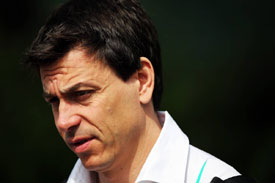 Mercedes motorsport boss Toto Wolff plans to sell the shares he still has in Williams, but he will only do so when the right buyer is found.
After Wolff's move from executive director at Williams to a senior role at Mercedes was announced earlier this year, it was made clear that Wolff would retain the 16 per cent stake he has in the Grove-based outfit.
However, having progressed with buying a shareholding in the Mercedes F1 team, Wolff says that he has agreed with his German bosses that he will offload his involvement at Williams when the moment is right.
"The commitment I gave to Mercedes was that I would look at the shareholding, as you don't want to have that conflict of interest," said Wolff.
"Even if operationally it is not a conflict, as here [at Mercedes] I am a director and I am not there any more, it does not give a good light.
"But I owe it to Frank [Williams], the family and the whole team to care with responsibility. I cannot just go to the market and say: 'who wants to buy those shares?'"
Wolff suggests that a swift offloading of his stake could risk driving the share price down, which is why he wants to hold fire for the right opportunity.
"I have to find someone who is responsible enough, who is coming in for the sport, and who understands how the team functions," he said.
"Hopefully it will be a sponsor, but it is not so easy to find somebody who is suitable.
"So the point is that I need to look for somebody at a certain stage, but it is not that I am under pressure.
"What we agreed with the Mercedes guys is that I won't have a certain timeframe to sell them."