Marrakech WTCC: James Thompson slams 'child' Fernando Monje
| | |
| --- | --- |
| By Sam Tremayne | Tuesday, April 9th 2013, 10:51 GMT |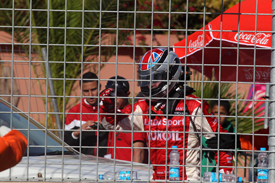 An angry James Thompson says he has no comprehension of what Fernando Monje was trying to achieve when the pair clashed in the second World Touring Car Championship race in Marrakech.
Monje ploughed into the back of Thompson at the penultimate chicane, putting both men out on the spot. The Spaniard had started the contest from pole but was bumped down to 11th when Rob Huff dived him at the final hairpin just half a lap before his crash with Thompson.
The Lada driver said his subsequent confrontation with Monje was borne from bewilderment at the latter's mentality and driving ethics.
"I am going to be brutally honest: he hit me four times, twice in first race, twice in second, every time making no attempt to actually overtake," Thompson told AUTOSPORT.
"First time, fair enough. Second time; careless. Third time; stupid. Fourth time...
"Maybe the guy has a serious problem mentally, maybe it's that his team-mate [Pepe Oriola] was leading.
"If you want to be a professional driver you cannot behave like a child with a toy and just throw it against other people. I told him that at the track.
"For me this is not the mentality of someone who knows how to race, it's the mentality of a spoiled child.
"Why risk damaging everyone's cars? Why not just race?"
Monje was subsequently handed a five-place grid penalty for the next round in Slovakia. Thompson said it was correct for such incidents to receive sanction.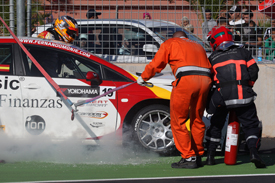 "These sorts of thing need punishing; if people think you can do this and get away with it where does it end?" he said.
"He's a young guy, he needs telling early in his career. If you want to be a professional, you have to temper it. No doubt he can drive, but it's not all about that.
"In the first race I was faster than Tom [Coronel] but there was no point trying to overtake because there would have been contact.
"I don't think just to run into the back of him and push him off. I would have followed him until the end of the race if he didn't make a mistake, but we'd have had a result.
"Some guys can't accept when things don't go their way."