Antonio Felix da Costa wants repeat of Monza FR3.5 fight
| | |
| --- | --- |
| By Glenn Freeman | Monday, April 8th 2013, 13:00 GMT |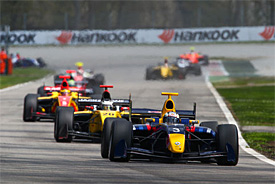 Antonio Felix da Costa hopes that the frontrunners in this year's Formula Renault 3.5 championship can have more battles like the one from the opening laps of race two at Monza last weekend.
The Red Bull-backed racer scrapped for the lead with McLaren juniors Kevin Magnussen and Stoffel Vandoorne in the early laps on Sunday, with da Costa eventually coming out on top after a battle where all three took turns in the lead.
The trio all agreed that the battle was something special, and da Costa hopes the frontrunners can maintain that standard of racing.
"It was a good race, and the first couple of laps were a nice fight," he said. "We were all pushing to the limit but it was fair, and this is good.
"I think we have to keep it like this for the next races, it was really nice.
"We all did a good job and to be honest any of the three of us could have won this race."
Magnussen also enjoyed the battle, even if he couldn't make his turn at the front last for very long.
"The first couple of laps were really exciting, and I enjoyed it a lot," he said.
"It was an amazing fight. Unfortunately it didn't turn out my way, Antonio got the upper hand, but I enjoyed the race from start to finish."
HOW IT UNFOLDED
The race two battle for the lead in detail
Lap 1: Vandoorne takes the lead from polesitter da Costa at the start.
At the end of the lap the rookie makes a mistake at the Parabolica, giving da Costa a run at him down the start/finish straight.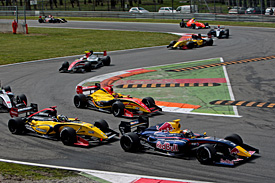 Lap 2: Vandoorne locks up into the first chicane due to his brakes being too cold. He cuts the chicane, and is passed by da Costa and Magnussen on the exit.
Da Costa covers the middle of the track into the second chicane, with Magnussen attacking on the outside and a recovering Vandoorne sat in the leader's slipstream.
The leader then hits a kerb too hard at the second Lesmo bend and runs wide out onto the grass, forcing him to defend into the Ascari chicane.
Magnussen passes da Costa for the lead by going around the outside into the Parabolica.
Lap 3: Magnussen defends on the inside into the first chicane, but da Costa passes him around the outside on the entry. Magnussen gives him just enough space in the second part of the chicane to make the move stick.