Monza FR3.5: da Costa on pole for Sunday's race
| | |
| --- | --- |
| By Glenn Freeman | Sunday, April 7th 2013, 07:44 GMT |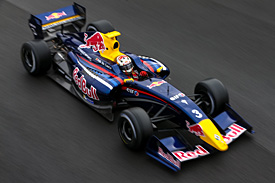 Antonio Felix da Costa took pole position for the second Formula Renault 3.5 race at Monza after a battle with race-one winner Stoffel Vandoorne.
After Kevin Magnussen had led the way for much of the wet session, da Costa and Vandoorne stepped things up a notch and engaged in what soon became an exclusive fight for pole.
The Red Bull junior struck first with five minutes to go, but McLaren-affiliated Vandoorne beat that time just a minute later.
Da Costa responded to snatch the place back, and as Vandoorne toured back to the pits with an electrical problem just before the chequered flag came out, his rival went even faster to stretch his advantage out to three tenths of a second.
"On the last couple of laps we had a misfire develop," Vandoorne told AUTOSPORT. "It was coming in at high speed to begin with, so I couldn't stay out as the track was drying.
"The team is working to fix the problem now and hopefully they should get it done before the race."
Their scrap for pole left the top two seven tenths clear of Vandoorne's fellow McLaren junior Magnussen, but the Dane was able to reduce that margin to 0.6 seconds with his final lap.
Draco's Nico Muller qualified on the second row but will drop four places for causing a
collision with Lucas Foresti in race one. A late improvement from race-one front row starter Sergey Sirotkin got him into the top five for the second day running.
Lucas Foresti and Pietro Fantin were next up, just ahead of Will Stevens.
Marco Sorensen, who had more wet tyres available than anyone after not using wets during Saturday's session, could only manage ninth, while rookie Norman Nato completed the top 10.
Pos Driver                 Team              Time       Gap      Laps
 1. Antonio F. da Costa    Arden Caterham    1m47.865s            14
 2. Stoffel Vandoorne      Fortec            1m48.252s  + 0.387s  12
 3. Kevin Magnussen        DAMS              1m48.527s  + 0.662s  13
 4. Nico Muller            Draco             1m48.636s  + 0.771s  14 (*)
 5. Sergey Sirotkin        ISR               1m48.651s  + 0.786s  15
 6. Lucas Foresti          Comtec            1m48.809s  + 0.944s  14
 7. Pietro Fantin          Arden Caterham    1m48.903s  + 1.038s  15
 8. Will Stevens           P1                1m48.935s  + 1.070s  13
 9. Marco Sorensen         Lotus             1m49.163s  + 1.298s  15
10. Norman Nato            DAMS              1m49.174s  + 1.309s  13
11. Oliver Webb            Fortec            1m49.205s  + 1.340s  15
12. Matias Laine           P1                1m49.380s  + 1.515s  14
13. Mikhail Aleshin        Tech 1            1m49.394s  + 1.529s  14
14. Nigel Melker           Tech 1            1m49.404s  + 1.539s  14
15. Daniil Move            Comtec            1m49.490s  + 1.625s  14
16. Arthur Pic             AV Formula        1m49.585s  + 1.720s  14
17. Andre Negrao           Draco             1m49.696s  + 1.831s  14
18. Jazeman Jaafar         Carlin            1m49.761s  + 1.896s  15
19. Christopher Zanella    ISR               1m49.796s  + 1.931s  15
20. Emmanuel Piget         Zeta Corse        1m49.963s  + 2.098s  13
21. Marlon Stockinger      Lotus             1m50.037s  + 2.172s  14
22. Nikolay Martsenko      Pons              1m50.180s  + 2.315s  12
23. Zoel Amberg            Pons              1m50.385s  + 2.520s  12
24. Carlos Huertas         Carlin            1m50.697s  + 2.832s  15
25. Yann Cunha             AV Formula        1m50.697s  + 2.832s  14
26. Mihai Marinescu        Zeta Corse        1m51.318s  + 3.453s  14

* Drops to 8th after penalty