Martinsville NASCAR: Jimmie Johnson takes record pole
| | |
| --- | --- |
| By Connell Sanders Jr | Friday, April 5th 2013, 21:06 GMT |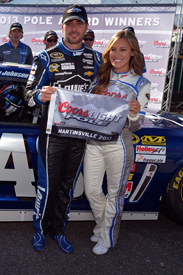 Jimmie Johnson claimed pole for Sunday's NASCAR Sprint Cup race at Martinsville with a record lap.
The top six in qualifying were all under the lap record as the new Gen 6 car proved to be a definite step forward around the half-mile track.
Johnson's Hendrick Motorsports Chevrolet had earlier been quicker in practice, and he produced a time of 19.244 seconds to knock Marcos Ambrose off the top spot.
"The car was fast right off the truck and I'm happy I did my part in qualifying and backed it up with the pole," said Johnson.
The delighted Ambrose had held pole for a large part of qualifying before Johnson edged ahead of the Australian's Richard Petty Ford by just 0.007s.
Joe Gibbs Racing announced earlier this week that Brian Vickers would take over the injured Denny Hamlin's car from the next race at Texas Motor Speedway.
Vickers went on to qualify third for present employer Michael Waltrip Racing in his first Cup appearance of 2013, while Hamlin's Martinsville-only stand-in Mark Martin could only manage 35th.
Joey Logano, still at the centre of controversy over his part in Hamlin's accident, was pole-holder before Ambrose's run and ended up fourth.
His Penske team-mate Brad Keselowski got through technical inspection just in time to secure seventh, with Hendrick pair Kasey Kahne and Jeff Gordon setting identical times as they split the two Fords.
Gibbs driver Matt Kenseth was eighth, just ahead of his former Roush Ford team-mate Carl Edwards. Stewart-Haas driver Ryan Newman completed the top 10.
Pos  Driver              Team/Car                     Time     Gap
 1.  Jimmie Johnson      Hendrick Chevrolet           19.244s
 2.  Marcos Ambrose      Petty Ford                   19.251s  + 0.007s
 3.  Brian Vickers       Waltrip Toyota               19.266s  + 0.022s
 4.  Joey Logano         Penske Ford                  19.269s  + 0.025s
 5.  Kasey Kahne         Hendrick Chevrolet           19.286s  + 0.042s
 6.  Jeff Gordon         Hendrick Chevrolet           19.286s  + 0.042s
 7.  Brad Keselowski     Penske Ford                  19.307s  + 0.063s
 8.  Matt Kenseth        Joe Gibbs Toyota             19.319s  + 0.075s
 9.  Carl Edwards        Roush Fenway Ford            19.330s  + 0.086s
10.  Ryan Newman         Stewart-Haas Chevrolet       19.330s  + 0.086s
11.  Kyle Busch          Joe Gibbs Toyota             19.333s  + 0.089s
12.  Martin Truex Jr     Waltrip Toyota               19.334s  + 0.090s
13.  Jamie McMurray      Earnhardt Ganassi Chevrolet  19.352s  + 0.108s
14.  Juan Pablo Montoya  Earnhardt Ganassi Chevrolet  19.366s  + 0.122s
15.  Clint Bowyer        Waltrip Toyota               19.378s  + 0.134s
16.  Paul Menard         Childress Chevrolet          19.393s  + 0.149s
17.  Dale Earnhardt Jr   Hendrick Chevrolet           19.399s  + 0.155s
18.  Regan Smith         Phoenix Chevrolet            19.419s  + 0.175s
19.  Kurt Busch          Furniture Row Chevrolet      19.430s  + 0.186s
20.  Ricky Stenhouse Jr  Roush Fenway Ford            19.433s  + 0.189s
21.  Kevin Harvick       Childress Chevrolet          19.435s  + 0.191s
22.  Greg Biffle         Roush Fenway Ford            19.438s  + 0.194s
23.  David Ragan         Front Row Ford               19.445s  + 0.201s
24.  David Stremme       Swan Toyota                  19.462s  + 0.218s
25.  Travis Kvapil       BK Toyota                    19.472s  + 0.228s
26.  Tony Stewart        Stewart-Haas Chevrolet       19.478s  + 0.234s
27.  Michael McDowell    Parsons Ford                 19.486s  + 0.242s
28.  Scott Speed         Leavine Ford                 19.512s  + 0.268s
29.  Jeff Burton         Childress Chevrolet          19.523s  + 0.279s
30.  David Gilliland     Front Row Ford               19.532s  + 0.288s
31.  Bobby Labonte       JTG Daugherty Toyota         19.541s  + 0.297s
32.  Danica Patrick      Stewart-Haas Chevrolet       19.542s  + 0.298s
33.  Landon Cassill      Circle Sport Chevrolet       19.546s  + 0.302s
34.  Aric Almirola       Petty Ford                   19.556s  + 0.312s
35.  Mark Martin         Joe Gibbs Toyota             19.571s  + 0.327s
36.  Ken Schrader        FAS Lane Ford                19.587s  + 0.343s
37.  JJ Yeley            Baldwin Chevrolet            19.591s  + 0.347s
38.  Scott Riggs         Xxxtreme Ford                19.603s  + 0.359s
39.  Dave Blaney         Baldwin Chevrolet            19.625s  + 0.381s
40.  David Reutimann     BK Toyota                    19.628s  + 0.384s
41.  Casey Mears         Germain Ford                 19.642s  + 0.398s
42.  Josh Wise           Front Row Ford               19.672s  + 0.428s
43.  Joe Nemechek        NEMCO-JRR Toyota             19.824s  + 0.580s

Did not qualify:

     Mike Bliss          Humphrey Smith Toyota        19.614s  + 0.370s