Grosjean thinks he is yet to show his potential this season
| | |
| --- | --- |
| By Matt Beer | Friday, April 5th 2013, 12:35 GMT |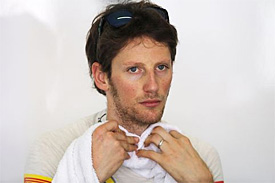 Romain Grosjean believes he has barely shown a hint of what he can do in the 2013 Formula 1 season so far.
After a turbulent 2012 campaign blighted by collisions, penalties and criticism, Grosjean worked hard over the winter to improve his mental approach and gain more consistency.
His season got off to a bad start as he finished only 10th, complaining of a car issue, in Melbourne while Lotus team-mate Kimi Raikkonen won.
At Sepang, Grosjean beat his ex-champion team-mate to sixth, but he feels he can do far better.
"It's been a little frustrating as I don't think I've shown my full potential yet," he said.
"The first two races were quite difficult for me and I would really like a weekend where I can show what myself and the team can do this season.
"We've got great potential, I just need to unlock it. Hopefully we'll find the key in China."
FINDING THE SWEET SPOT
Grosjean said difficulty finding the car's sweet spot was masking his form.
"It's been frustrating for me as sometimes the car gives me what I want and sometimes it doesn't, even if the conditions and set-up are very similar," he said.
"I've been working closely with my engineers and we made good progress over the last race weekend.
"The car and the latest tyres seem to be very sensitive to having the balance exactly right so that's what we're focusing on."
Lotus technical chief James Allison said set-up changes made a big difference to Grosjean's performance during the Malaysian Grand Prix.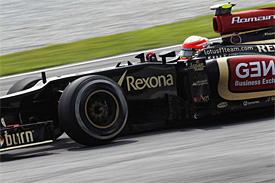 "Romain started off the weekend with a set-up that was far too oversteer biased, but through gradually moving towards greater levels of understeer he became significantly more comfortable in the car, subsequently putting in a very good race performance," Allison said.
"These tyres really do reward a well-balanced car, but the format of a race weekend places sufficient time constraints to make finding that sweet spot a challenge.
"In Melbourne we didn't quite manage to find the zone with Romain, but by the end of the week in Malaysia we had it much more to his liking and he subsequently rewarded us with a sterling drive."
AUTOSPORT says
Edd Straw, F1 editor
Romain Grosjean's season so far has not been attention-grabbing, but in both Australia and Malaysia there were some positives.
The mysterious car problem that Grosjean claims afflicted him in the race in Melbourne and during Friday practice at Sepang, which the team doesn't want to be drawn on and doesn't appear to be related to any troublesome car part, is possibly a red herring, but he has unquestionably been a step behind Raikkonen in terms of car specification.
Given that, to qualify 0.275 seconds and directly behind Raikkonen in Australia was perfectly reasonable while in Malaysia, few took the trouble to notice that he defeated the Finn over a race distance in a straight fight by around 13s.
As Grosjean also showed in that race that he is able to dice with other cars without hitting them, this represents an acceptable start to the season.
He needs to do better, no question, but this prodigiously fast Franco-Swiss driver has had the chance to play himself in after a terrible back end of 2012.
Now is the time for him to prove that he can make good on his talent. Chances are, he will.