Brands Hatch BTCC: Jason Plato wins despite last-corner clash
| | |
| --- | --- |
| By Kevin Turner | Sunday, March 31st 2013, 11:35 GMT |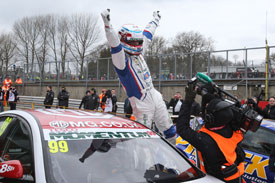 Jason Plato won the first British Touring Car race of 2013 at Brands Hatch despite being punted off at the last corner.
Plato's works MG was blocked at the start by a slow-starting Gordon Shedden's Honda, allowing poleman Andrew Jordan (Eurotech Honda) to briefly escape.
Shedden then had a big slide at Paddock, possibly after a slight nudge from Plato, dropping the Civic to ninth.
That helped a fast-starting Rob Austin, one of only four runners to start on the new soft tyre, to jump to second. He then attacked Jordan at Clearways to put the Audi into the lead before the end of the opening lap.
Plato followed him through and tracked Austin until the Audi's soft tyres started to go off.
The MG made it by around half-distance, but Plato's 75th BTCC victory was not yet secure.
Jordan jumped Austin at Clearways a few laps later and started closing on the MG.
He was close enough to consider a move at Clearways on the final lap, but hit the rear of the MG as he made his bid.
Both cars went off into the gravel, but such was the gap they had opened up over Austin that they were able to recover to finish first and second in their original order.
Behind Austin, Plato's team-mate Sam Tordoff took a good fourth, helped by Honda's woes.
Apart from Shedden's troubled opening lap, Neal suffered from a severe tyre rub. His pace suffered and Tordoff eventually made his move at Clearways, contact helping him by the Honda.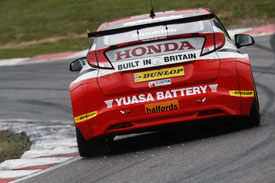 Shedden tried to follow, but Neal closed the door, almost forcing his team-mate into the pitwall.
Both Hondas subsequently pitted, putting them a lap down and out of the points. Shedden unlapped himself as Plato and Jordan rescued themselves from the gravel.
There were some star charges from the back. Frank Wrathall went from the last row to sixth in his Dynojet Toyota Avensis, while 2009 champion Colin Turkington - running on the soft tyre - came home eighth after starting 25th in the only one of WSR's new BMWs to finish.
Dan Welch also took 11th from row 12, helped by the late retirement of Mat Jackson's Motorbase Ford Focus.
Top S2000 qualifier Lea Wood led the class in the early part of the race, but his Vauxhall Vectra appeared to struggle with its tyres in the closing stages. That allowed BTCC returnee James Kaye to take Jack Sears Trophy honours in AmD's VW Golf.
Race 1 - 27 laps:

Pos  Driver            Team/Car                   Time/Gap
 1.  Jason Plato       MG                       24m08.734s
 2.  Andrew Jordan     Eurotech Honda             + 2.168s
 3.  Rob Austin        Austin Audi                + 6.130s
 4.  Sam Tordoff       MG                         + 7.789s
 5.  Jeff Smith        Eurotech Honda             + 8.245s
 6.  Frank Wrathall    Dynojet Toyota            + 13.622s
 7.  Adam Morgan       Ciceley Toyota            + 16.948s
 8.  Colin Turkington  WSR BMW                   + 18.923s
 9.  Aron Smith        Motorbase Ford            + 20.253s
10.  Ollie Jackson     Speedworks Toyota         + 22.114s
11.  Daniel Welch      Welch Proton              + 23.129s
12.  Will Bratt        Austin Audi               + 23.501s
13.  Jack Goff         HARD Vauxhall             + 27.349s
14.  Tom Onslow-Cole   HARD VW                   + 27.999s
15.  James Kaye        AmD VW*                   + 29.817s
16.  Lea Wood          Wood Vauxhall*            + 31.366s
17.  Liam Griffin      Motorbase Ford*           + 37.067s
18.  David Nye         Welch Ford*               + 44.911s
19.  Gordon Shedden    Honda                     + 45.441s
20.  Mat Jackson       Motorbase Ford              + 1 lap
21.  Matt Neal         Honda                       + 1 lap
22.  Warren Scott      BMR SEAT*                   + 1 lap

Retirements:

     Nick Foster       WSR BMW                      4 laps
     Rob Collard       WSR BMW                      3 laps
     Dave Newsham      Speedworks Toyota            3 laps
     James Cole        HARD Vauxhall                 1 lap
     Joe Girling       Finesse Chevrolet*           0 laps

* S2000