Nogaro GT Series: Rene Rast earns Audi opening pole
| | |
| --- | --- |
| By Gary Watkins | Saturday, March 30th 2013, 16:20 GMT |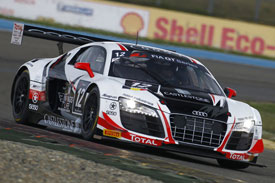 Three-time Porsche Supercup champion Rene Rast started his first season as a full-time Audi driver by claiming pole position at the opening round of the new FIA GT Series at Nogaro.
WRT driver Rast headed the timesheets by just one hundredth of a second with a time of 1m26.091 aboard the Pro-Am Cup class Audi R8 LMS ultra he shares with Nikolas Mayr-Melnhof.
The German edged out local driver Mike Parisy in the best of the Sebastien Loeb Racing McLaren MP4-12Cs in the Superpole session, during which the fastest 10 cars from the first two qualifying sessions each have two flying laps to set a time.
Rast, who has become one of Audi's pool of GT drivers for this season, said: "I'm very happy because the conditions were difficult. The first session was wet, it was drying for the second session and then it was completely dry.
"It looks like it is going to be very close between all the cars, especially the Audi and the McLaren."
Parisy, who shared his McLaren with Andreas Zuber, was a tenth quicker than team-mate Alvaro Parente, who is paired with team owner Sebastien Loeb.
The two Pro Cup WRT entries, which like all the Audis are running in 2012 specification for homologation reasons, ended up fourth and fifth in the hands of Frank Stippler and Stephane Ortelli.
Cesar Campanico made it four Audis in the top six at the wheel of his Novadriver R8.
The make-up of the Superpole session is decided by the aggregate times set by the two drivers in each car from Qualifying 1 and 2.
The two one-hour races that make up the opening round of the FIA GT Series, which has superseded the FIA GT1 World Championship, take place on tomorrow (Sunday) and on Monday.

Pos  Class   Driver               Team/Car             Time        Gap
 1.  Pro-Am  Rast/Mayr-Melnhof    WRT Audi             1m26.091s
 2.  Pro     Zuber/Parisy         Loeb McLaren         1m26.100s   + 0.009s
 3.  Pro     Loeb/Parente         Loeb McLaren         1m26.210s   + 0.119s
 4.  Pro     Stippler/Sandstrom   WRT Audi             1m26.528s   + 0.437s
 5.  Pro     Ortelli/Vanthoor     WRT Audi             1m26.779s   + 0.668s
 6.  Pro-Am  Campanico/Vieira     Novadriver Audi      1m26.862s   + 0.771s
 7.  Pro     Bueno/Khodair        Brazil BMW           1m27.110s   + 1.019s
 8.  Pro-Am  Buncombe/Ordonez     RJN Nissan           1m27.436s   + 1.345s
 9.  Pro     Ide/Kumpen           Phoenix Audi         1m27.474s   + 1.383s
10.  Pro     Buhk/Day             Gravity Mercedes     -           -
11.  Pro     Zonta/Jimenez        Brazil BMW           1m27.860s   Q2
12.  Pro     Chandhok/Seyffarth   Seyffarth Mercedes   1m27.920s   Q2
13.  Pro-Am  Proczyk/Baumann      Grasser Lamborghini  1m28.147s   Q2
14.  Pro-Am  Stumpf/Ricci         Rodrive Ford         1m28.334s   Q2
15.  Pro-Am  Afanasiev/Simonsen   Gravity Mercedes     1m28.397s   Q2
16.  Pro-Am  Schulzhitskiy/Reip   RJN Nissan           1m29.050s   Q2
17.  Pro-Am  Ebrahim/Jousse       India BMW            1m29.145s   Q2
18.  Gent    Barthez/Tonelli      SOFREV Ferrari       1m29.426s   Q2
19.  Pro     Kentenich/Keilwitz   Doer McLaren         1m29.463s   Q2
20.  Pro-Am  Ayari/Beaubelique    SOFREV Ferrari       1m29.656s   Q2
21.  Gent    Mascarello/Tozzo     Rodrive Ford         1m31.522s   Q2
22.  Gent    Stovicek/Charouz     Gravity Mercedes     1m39.063s   Q2
23.  Pro-Am  Salaquarda/Onidi     AF Ferrari           -           Q2