NASCAR says Logano did not cause Hamlin crash deliberately
| | |
| --- | --- |
| By Matt Beer | Wednesday, March 27th 2013, 14:05 GMT |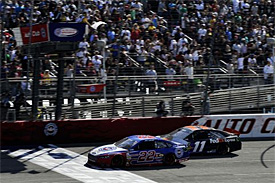 NASCAR Sprint Cup director John Darby says the organisers instantly dismissed the notion of Joey Logano having deliberately triggered the Fontana crash that left Denny Hamlin with a fractured back.
Logano and Hamlin ended up fighting for victory at Fontana a week after clashes both on and off track at Bristol.
The pair made contact, with Hamlin hitting the wall head on and suffering an injury that will rule him out of at least five races.
In an television interview before the severity of Hamlin's situation became apparent, Logano said "he probably shouldn't have done what he did last week, so that's what he gets."
NASCAR chose to issue no penalties over the clash, and Darby said it was clear from how Logano and Hamlin were racing that it was a normal close fight for victory rather than anything malicious.
"They were side-by-side and everything that great competitors do," he said.
"If somebody was of the mindset to retaliate, they probably would have been lined up nose to tail to start with and somebody would have drove into the other car and spun them around.
"This case is so far from the opposite that it never even crossed anybody's mind that that was part of it."
PITLANE BRAWL
Logano was also involved in a pitlane fracas with Tony Stewart in which the three-time champion angrily accused the Penske driver of blocking him.
No penalties were applied in this case either and Darby said NASCAR was happy for its drivers to voice their feelings in such a way.
"A few years ago, we backed away from micromanaging drivers' emotions," he said.
"You would hope in today's world that if somebody didn't win a race, they would be upset about it for whatever reason.
"A couple of drivers at the end of the race arguing a little bit doesn't create a foul in our world today.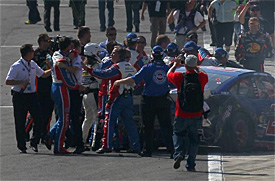 "The crews did a great job of managing their drivers to make sure that it didn't cross the line to where there was physical violence or anything like that, and that's what you would hope."
Darby also ruled out any NASCAR intervention in the sort of defensive driving Stewart was enraged over.
"Right now, I can tell you there are not any conversations internally inside NASCAR to look at blocking as the violation or penalty-type situation that some other forms of motorsports do," he said.
"With Sprint Cup Series racing obviously being far above a lot of the other forms of racing as far as competitiveness goes, we are going to have close racing, and close side by side racing, and we are going to have close front to rear racing, and there's a lot of that that's just part of competition.
"I don't think we need to jump in the middle of any of that and screw it up."