Starworks sets Wednesday deadline to confirm entry in WEC opener
| | |
| --- | --- |
| By Gary Watkins | Tuesday, March 26th 2013, 13:09 GMT |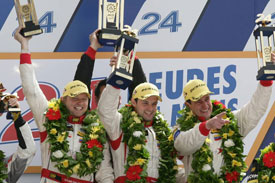 The US Starworks squad, winner of the LMP2 class in the 2012 World Endurance Championship, has set a deadline of Wednesday this week to confirm its participation in this year's Silverstone opener.
Starworks Motorsport is still waiting for funding to come through from the Venezuelan homeland of driver Alex Popow to put its programme in place and, as a result, has so far been unable to secure a chassis and engine for the coming season.
Team boss Peter Baron said: "It is our intention to be at Silverstone. We have to get something sorted by Wednesday, otherwise it is not going to happen for Silverstone. We have set a deadline for then."
Baron explained that he was hopeful that the team could be ready for the Spa WEC round in May should his team miss Silverstone.
That would involve paying a €30,0000 (£25,500) fine, but should the team also miss the Belgian event, it looks unlikely to be able to defend its Le Mans 24 Hours LMP2 title.
Starworks has a so-called guaranteed entry for Le Mans, but it is conditional on the team signing up to take part in one of the three series running to Le Mans rules around the world.
The Automobile Club de l'Ouest, which runs the 24 Hours, is understood to have informed teams that should they miss Silverstone and Spa, they would not be allowed to compete at Le Mans.
Baron revealed that the team remains in discussion with two groups about the supply of a chassis and engine for the season. One would involved leasing an HPD ARX-03b and the other using and ORECA-Nissan 03 package.
The prospect of Starworks, which is also running in Grand-Am this year, taking a year out from the WEC was also raised by Baron.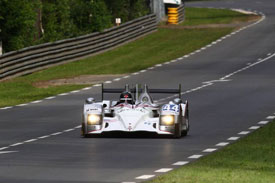 "One of the alternatives if the money comes through too late is to step back and start working on next season," he explained. "All the indications are that the funding will arrive; we just don't know when."
The ill health and subsequent death of Venezuelan president Hugo Chavez resulted in delays in the arrival of state funding, which also facilitated Starworks' 2012 WEC campaign with another Venezuelan driver, Enzo Potolicchio.
Potolicchio owned the HPD the team raced last year and subsequently sold it to the Extreme Speed Motorsports squad for its American Le Mans Series campaign.
Expat Brit Ryan Dalziel would continue with Starworks in the WEC should the programme go ahead. A team-mate for him and Popow, who drive together in Grand-Am, has yet to be fixed.
Wednesday is also the deadline for WEC entrants to declare the driver line-up in each of their cars for Silverstone.