New-style FIA GT Series hits entry target
| | |
| --- | --- |
| By Gary Watkins | Friday, March 22nd 2013, 21:50 GMT |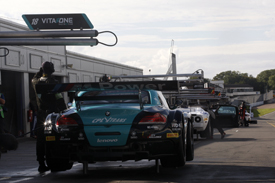 FIA GT Series boss Stephane Ratel has hit his target of achieving more than 20 full-season entires for the new championship.
A minimum of 21 cars due to contest all six races of the series, which takes over from the GT1 World Championship, are on the entry list for the opening round at Nogaro on March 31/April 1.
One further entry is a possibility for the French event, while the grid will be bolstered by five cars competing on a one-off basis.
Ratel said: "Twenty-one or 22 cars is spot on our objective, so I am very pleased. It is an excellent field and we are expecting more cars to sign up for the series from Zolder [round two in April]."
The Novadriver Audi squad, a regular in last year's GT3 European Championship, is working on a second entry that could come to fruition in time for Nogaro, while the ProSpeed Porsche and Reiter Engineering Lamborghini teams are looking to join the series full-time at Zolder.
Of the 21 full-season entries, which include cars from six different marques, 11 will race in the Pro Cup for all-professional driver line-ups.
The grid has been bolstered by several late additions, including two McLaren MP4-12Cs entered by the German Doer Motorsport squad and a solo Mercedes-Benz SLS AMG fielded by Seyffarth Motorsport.
Audi is the strongest manufacturer numerically on the entry list, with five full-time entries split between Vincent Vosse's WRT squad, Phoenix Racing and Novadriver.
There are four cars on the entry from each of BMW, Mercedes and McLaren.
Last year's GT1 World runner-up Vita4One Racing has entered only one BMW for Frank Kechele and Greg Franchi, but the German squad is also running the BMW Sports Trophy Team India entry in conjunction with the Spanish SUNRED squad.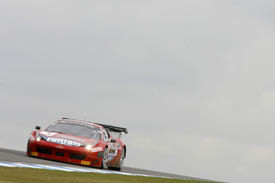 SUNRED will also have an involvement in the BMW Team Brazil, whose drivers include Ricardo Zonta and Caca Bueno.
The HTP Gravity Charouz team, which is running three Mercedes, has GT stalwart Allan Simonsen, 2012 FIA GT3 champion Maximilian Buhk and sometime Auto GP racer Sergei Afanasiev among its drivers.
Sebastien Loeb Racing leads the McLaren attack with a two-car all-pro line-up, with team co-owner Loeb joined by factory driver Alvaro Parente.
There are two Nissans and two Fords on the entry, fielded respectively by Nissan GT Academy Team RJN and Rodrive Competicoes.
Three Ferraris (pictured) and a solo Lamborghini fielded on race-by-race entires add diversity to the Nogaro grid.
Nogaro GT Series entry list:

Gravity Charouz Mercedes  Maximilian Buhk/Alon Day
Gravity Charouz Mercedes  Sergei Afanasiev/Allan Simonsen
Gravity Charouz Mercedes  Jan Stovicek/Petr Charouz
Phoenix Audi              Enzo Ide/Anthony Kumpen
India BMW                 Armaan Ebrahim/Matteo Cressoni
Rodrive Ford              Matheus Dall'Agnol Stumpf/Claudio Ricci
Rodrive Ford              Raijan Mascarello/Felipe Tozzo
Loeb McLaren              Sebastien Loeb/Alvaro Parente
Loeb McLaren              Andreas Zuber/Mike Parisy
WRT Audi                  Stephane Ortelli/Laurens Vanthoor
WRT Audi                  Rene Rast/Niki Mayr-Melnhof
WRT Audi                  Frank Stippler/Edward Sandstrom
Novadriver Audi           Cesar Campanico/Carlos Viera
Novadriver Audi           TBA/TBA
Doer McLaren              Niclas Kentenich/Daniel Keilwitz
Doer McLaren              Paul Green/TBA
Sainteloc Audi            Gregory Guilvert/TBA
Brazil BMW                Caca Bueno/Allam Khodair
Brazil BMW                Ricardo Zonta/Sergio Jimenez
Grasser Lamborghini       Hari Proczyk/Dominik Baumann
Vita4one BMW              Frank Kechele/Greg Franchi
Seyffarth Mercedes        TBA/Jan Seyffarth
Auto Sport Ferrari        Soheil Ayari/Jean-Luc Beaubelique
Auto Sport Ferrari        Fabien Barthez/Gerard Tonelli
RJN Nissan                Mark Shulzhitskiy/Wolfgang Reip
RJN Nissan                Alex Buncombe/Lucas Ordonez
AF Ferrari                Filip Salaquarda/Fabio Odini