ERC Canaries: Kubica says he is not taking any risks
| | |
| --- | --- |
| By David Evans | Friday, March 22nd 2013, 11:29 GMT |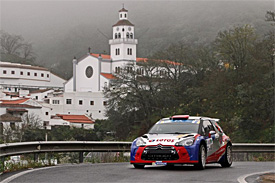 Robert Kubica says he has not taken any chances to move into a 38-second lead on the Canaries Rally this morning.
The Citroen DS3 RRC driver selected four soft Michelin tyres for what turned out to be a wetter than expected opening loop and it was that choice of rubber that handed him a slight advantage.
"Finally," he said, "after getting the tyre choice wrong for 10 times, I get it right! Usually, I tell my friends to go to the same tyre as me - I always get it wrong."
Kubica was fastest on all three of the morning stages, but only by eight tenths of a second on the final test, which was the only dry one in the loop.
"So far, so good this morning," added the leader. "I am driving at my speed and not taking risks. I have to work more on my driving and on the notes, it's only normal that in the first time in the car everything is not going to be perfect."
Kubica admitted he was surprised by the wet conditions on Gran Canaria this morning.
"There was more water than we expected," he said. "The first stages were both damp and then a lot of water in SS2. I have good experience from driving in these kind of conditions – because I have made the wrong tyre choice so many times!"
OUT OF REACH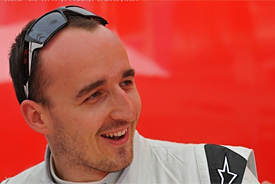 Rival Jan Kopecky fears Kubica might already be out of sight at the front of the field.
The second-placed Skoda driver is chasing a third successive win on the Spanish island, but he feels that hat-trick may now be out of reach.
"To catch him now, I don't think so," said Kopecky, "if you lose 10 seconds on this rally then that is too much. He has a good lead now."
Kopecky admitted he had been impressed by Kubica's performance on his debut in his DS3 RRC.
"Of course it is impressive," he said.
"Robert took soft tyres, which was the right choice. We had softs in the rear and medium at the front, so lots of understeer, but he is driving very well."