FR3.5 testing: Antonio Felix da Costa sets record Barcelona pace
| | |
| --- | --- |
| By Glenn Freeman | Tuesday, March 19th 2013, 20:05 GMT |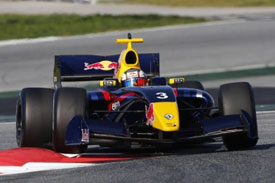 Red Bull junior Antonio Felix da Costa led the way on the first day of the final Formula Renault 3.5 pre-season test at Barcelona.
The Arden Caterham driver edged out morning pacesetter Kevin Magnussen by less than one tenth of a second, as several cars smashed the lap record set by da Costa in last season's finale.
Just behind McLaren junior racer Magnussen was a third driver with an association to a Formula 1 team, as Lotus-backed Marco Sorensen headed Will Stevens.
Up next was another McLaren protege in FR3.5 rookie Stoffel Vandoorne - one of only two drivers to set his fastest time in the morning running.
Da Costa, who finished the morning running - which was mainly focused on race runs - seven tenths down on Magnussen, said: "It's great to finish the day like this.
"The car was a little off balance to start with but we did some good work and got back on our feet.
"I can't wait to get out there tomorrow because we are planning to try out a few new set ups."
Combined test times:

Pos  Driver                  Team            Time       Gap
 1.  Antonio Felix da Costa  Arden Caterham  1m28.935s
 2.  Kevin Magnussen         DAMS            1m29.002s  + 0.067s
 3.  Marco Sorensen          Lotus           1m29.143s  + 0.208s
 4.  Will Stevens            P1              1m29.229s  + 0.294s
 5.  Stoffel Vandoorne       Fortec          1m29.410s  + 0.475s
 6.  Nico Muller             Draco           1m29.458s  + 0.523s
 7.  Jazeman Jaafar          Carlin          1m29.496s  + 0.561s
 8.  Carlos Huertas          Carlin          1m29.639s  + 0.704s
 9.  Norman Nato             DAMS            1m29.680s  + 0.745s
10.  Sergey Sirotkin         ISR             1m29.703s  + 0.768s
11.  Marlon Stockinger       Lotus           1m29.737s  + 0.802s
12.  Arthur Pic              AV              1m29.772s  + 0.837s
13.  Pietro Fantin           Arden Caterham  1m29.937s  + 1.002s
14.  Oliver Webb             Fortec          1m29.953s  + 1.018s
15.  Nigel Melker            Tech 1          1m30.037s  + 1.102s
16.  Matias Laine            P1              1m30.248s  + 1.313s
17.  Lucas Foresti           Comtec          1m30.288s  + 1.353s
18.  Daniil Move             Comtec          1m30.373s  + 1.438s
19.  Christopher Zanella     ISR             1m30.416s  + 1.481s
20.  Andre Negrao            Draco           1m30.474s  + 1.539s
21.  Nikolay Martsenko       Pons            1m30.525s  + 1.590s
22.  Mikhail Aleshin         Tech 1          1m30.565s  + 1.630s
23.  Zoel Amberg             Pons            1m30.633s  + 1.698s
24.  Yann Cunha              AV              1m30.819s  + 1.884s
25.  Mihai Marinescu         Zeta            1m31.044s  + 2.109s
26.  Dino Zamperelli         Zeta            1m31.090s  + 2.155s