FIA Euro F3 testing: Will Buller puts T-Sport on top at Monza
| | |
| --- | --- |
| By Marcus Simmons | Tuesday, March 19th 2013, 19:51 GMT |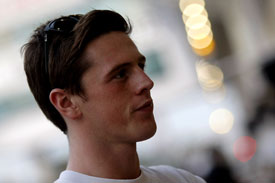 Formula 3 veteran Will Buller kept his T-Sport Dallara and its ThreeBond Nissan engine on top as he headed the final FIA F3 European Championship pre-season test at Monza.
Northern Irishman Buller displaced Prema Powerteam Dallara-Mercedes duo Alex Lynn and Raffaele Marciello with two super-quick laps right at the end of the day, going 0.257 seconds clear of the Italian squad's leading contenders.
T-Sport boss Russell Eacott said: "Will's done very well today. He didn't have new tyres this morning but we knew we had reasonable pace.
"In the afternoon, things were a bit messy on his first set of new tyres but on his second it was a really good effort."
Tom Blomqvist also moved up the order in the closing minutes to go fourth - a tonic for EuroInternational, which has only recently moved up to the top level of F3 with its Dallara-Merc.
Top rookie this time around was Double R Racing's Italian sensation Antonio Giovinazzi, who was second in the morning behind Fortec Motorsport man Pipo Derani, but beat the Brazilian to fifth in the afternoon times.
Most of the Carlin team's drivers featured at or near the top at various times during the day, with Harry Tincknell finishing up as the best of the squad's Dallara-Volkswagen drivers in seventh.
The test ended up being reduced from two days to one, as snow on Monday caused the day's activities to be cancelled.
Testing was delayed again on Tuesday by two hours because of ice, and the morning's two-hour session took place with snow on the grass beside the track. Conditions improved - and times tumbled – during the four hours of running in the afternoon.
There is now a two-day gap before the championship's opening race weekend kicks off at the same track on Friday with free practice and qualifying.
Combined test times:

Pos  Driver               Team/Car                    Time       Gap
 1.  Will Buller          T-Sport Dallara-Nissan      1m45.354s
 2.  Alex Lynn            Prema Dallara-Merc          1m45.611s  + 0.257s
 3.  Raffaele Marciello   Prema Dallara-Merc          1m45.713s  + 0.359s
 4.  Tom Blomqvist        EuroIntern'l Dallara-Merc   1m45.764s  + 0.410s
 5.  Antonio Giovinazzi   Double R Dallara-Merc       1m45.789s  + 0.435s
 6.  Pipo Derani          Fortec Dallara-Merc         1m45.869s  + 0.515s
 7.  Harry Tincknell      Carlin Dallara-VW           1m45.895s  + 0.541s
 8.  Lucas Auer           Prema Dallara-Merc          1m45.994s  + 0.640s
 9.  Felix Serralles      Fortec Dallara-Merc         1m46.026s  + 0.672s
10.  Mans Grenhagen       Van Amersfoort Dallara-VW   1m46.030s  + 0.676s
11.  Jordan King          Carlin Dallara-VW           1m46.085s  + 0.731s
12.  Pascal Wehrlein      Mucke Dallara-Merc          1m46.272s  + 0.918s
13.  Roy Nissany          Mucke Dallara-Merc          1m46.283s  + 0.929s
14.  Dennis van de Laar   Van Amersfoort Dallara-VW   1m46.331s  + 0.977s
15.  Josh Hill            Fortec Dallara-Merc         1m46.361s  + 1.007s
16.  Felix Rosenqvist     Mucke Dallara-Merc          1m46.365s  + 1.011s
17.  Eddie Cheever        Prema Dallara-Merc          1m46.380s  + 1.026s
18.  Mitchell Gilbert     Mucke Dallara-Merc          1m46.512s  + 1.158s
19.  Nicholas Latifi      Carlin Dallara-VW           1m46.541s  + 1.187s
20.  Sven Muller          Ma-con Dallara-VW           1m46.555s  + 1.201s
21.  Jann Mardenborough   Carlin Dallara-VW           1m46.724s  + 1.370s
22.  Dmitry Suranovich    Fortec Dallara-Merc         1m47.394s  + 2.040s
23.  Spike Goddard        T-Sport Dallara-Nissan      1m47.439s  + 2.085s
24.  Sean Gelael          Double R Dallara-Merc       1m47.548s  + 2.194s
25.  Gary Thompson        Ferraris Dallara-Merc       1m47.879s  + 2.525s
26.  Sandro Zeller        Zeller Dallara-Merc         1m48.015s  + 2.661s
27.  Lucas Wolf           URD Dallara-Merc            1m48.016s  + 2.662s
28.  Tatiana Calderon     Double R Dallara-Merc       1m48.203s  + 2.849s
29.  Andre Rudersdorf     Ma-con Dallara-VW           1m48.551s  + 3.197s
30.  Michela Cerruti      Ferraris Dallara-Merc       1m49.411s  + 4.057s