Sebring 12 Hours: Fassler pips McNish in all-Audi pole fight
| | |
| --- | --- |
| By Gary Watkins | Friday, March 15th 2013, 19:14 GMT |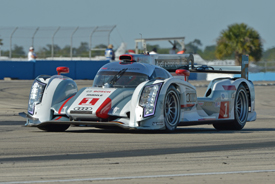 Marcel Fassler claimed pole position for the Sebring 12 Hours by just nine one thousandths of a second ahead of Audi team-mate Allan McNish.
The Swiss took pole for the American Le Mans Series opener with a lap timed at 1m43.886s aboard the 2012-spec Audi R18 e-tron quattro, a mark that McNish came close to equalling on his final lap in the 2013 car.
Fassler, who is driving with Benoit Treluyer and Oliver Jarvis, said: "It was a really tight battle for the pole. The car was good yesterday, so I knew I could do it.
"This was my first qualifying at Sebring, which isn't an easy track to set a quick lap on. Being first is really good."
Best of the rest behind the two factory Audis was Nick Heidfeld on a 1m46.456 in the fastest of the two Rebellion Racing Lola-Toyota B12/60s.
The Anglo-Swiss Rebellion squad overcame a handing imbalance that afflicted the #12 car that Heidfeld shares with Neel Jani and Nicolas Prost to beat the Muscle Milk Pickett Racing HPD for privateer honours.
The pole-winning margin in LMP2 was hardly any bigger than in P1, with IndyCar refugee Ryan Briscoe overcoming Level 5 Motorsports HPD team-mate Ryan Hunter-Reay by just one tenth.
Former Porsche factory driver Briscoe, who is racing at Sebring for the first time since 2008, set his pole lap of 1m51.159 in the car he shares with Scott Tucker and Marino Franchitti.
RISI TAKES GT POLE ON RETURN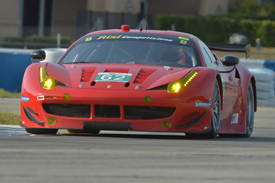 Gianmaria Bruni set two laps good enough for pole in the GT class on the Risi Competizione Ferrari team's return to the ALMS after a year away.
The Italian, who shares the team's Ferrari 458 Italia with Matteo Malucelli and Olivier Beretta, ended up on a 1m58.896s, which put him little more than a tenth ahead of Oliver Gavin in the best of the Chevrolet Corvette C6.Rs.
The fastest of the two factory Aston Martin Vantage GTEs ended up third fastest in the hands of Stefan Mucke.
Andy Lally set the pace in the GTC class for the Porsche 911 GT3 Cup, taking pole by three tenths of a second aboard the lead Dempsey Del Piero Racing entry.
DID YOU KNOW...
...Gimmi Bruni has now claimed three consecutive class pole positions for Ferrari at Sebring. He followed up on his 2012 and '11 poles with AF Corse on his return to Risi this year.
Pos  Cl   Qual driver            Team/Car               Time       Cl Gap
 1.  P1   Marcel Fassler         Joest Audi             1m43.886s
 2.  P1   Allan McNish           Joest Audi             1m43.895s  + 0.009s
 3.  P1   Nick Heidfeld          Rebellion Lola-Toyota  1m46.456s  + 2.570s
 4.  P1   Klaus Graf             Pickett HPD            1m46.478s  + 2.592s
 5.  P1   Andrea Belicchi        Rebellion Lola-Toyota  1m46.689s  + 2.803s
 6.  P1   Butch Leitzinger       Dyson Lola-Mazda       1m48.407s  + 4.521s
 7.  P2   Ryan Briscoe           Level 5 HPD            1m51.267s
 8.  P2   Ryan Hunter-Reay       Level 5 HPD            1m51.271s  + 0.004s
 9.  P2   Tom Kimber-Smith       Greaves Zytek-Nissan   1m51.366s  + 0.099s
10.  P2   David Brabham          Extreme Speed HPD      1m52.703s  + 1.436s
11.  P2   Johannes van Overbeek  Extreme Speed HPD      1m53.074s  + 1.807s
12.  PC   Colin Braun            CORE FLM               1m53.404s
13.  PC   Bruno Junqueira        RSR FLM                1m53.674s  + 0.270s
14.  PC   Pierre Kaffer          DragonSpeed FLM        1m53.838s  + 0.434s
15.  P1   Olivier Pla            DeltaWing              1m53.866s  + 9.980s
16.  PC   David Ostella          PR1 Mathiasen FLM      1m54.311s  + 0.907s
17.  PC   Kyle Marcelli          BAR1 FLM               1m54.520s  + 1.116s
18.  PC   Tristan Nunez          Performance Tech FLM   1m54.598s  + 1.194s
19.  PC   Rusty Mitchell         BAR1 FLM               1m55.282s  + 1.878s
20.  GT   Gianmaria Bruni        Risi Ferrari           1m58.815s
21.  GT   Oliver Gavin           Corvette               1m58.934s  + 0.119s
22.  GT   Stefan Mucke           Aston Martin           1m58.990s  + 0.175s
23.  GT   Pedro Lamy             Aston Martin           1m59.208s  + 0.393s
24.  GT   Antonio Garcia         Corvette               1m59.348s  + 0.533s
25.  GT   Jonathan Bomarito      SRT Viper              1m59.430s  + 0.615s
26.  GT   Marco Holzer           Miller Porsche         1m59.543s  + 0.728s
27.  GT   Maxime Martin          RLL BMW                1m59.736s  + 0.921s
28.  GT   Joey Hand              RLL BMW                1m59.847s  + 1.032s
29.  GT   Dominik Farnbacher     SRT Viper              1m59.898s  + 1.083s
30.  GT   Leh Keen               AJR/West Ferrari       2m00.308s  + 1.493s
31.  GT   Wolf Henzler           Falken Porsche         2m00.365s  + 1.550s
32.  GTC  Andy Lally             Dempsey Porsche        2m05.446s
33.  GTC  Jeroen Bleekemolen     Alex Job Porsche       2m05.747s  + 0.301s
34.  GTC  Sean Edwards           NGT Porsche            2m05.747s  + 0.301s
35.  GTC  Spencer Pumpelly       Flying Lizard Porsche  2m05.765s  + 0.319s
36.  GTC  Damien Faulkner        TRG Porsche            2m05.910s  + 0.464s
37.  GTC  Jan Heylen             JDX Porsche            2m05.936s  + 0.490s
38.  GTC  Alexandre Imperatori   Flying Lizard Porsche  2m06.059s  + 0.613s
39.  GTC  Andrew Davis           Dempsey Porsche        2m06.219s  + 0.773s
40.  GTC  Kevin Estre            TRG Porsche            2m06.246s  + 0.800s
41.  GTC  Kuba Giermaziak        NGT Porsche            2m07.057s  + 1.611s
42.  GTC  Lawson Aschenbach      Competition Porsche    2m07.366s  + 1.920s