Formula 1 teams warned over the use of physios
| | |
| --- | --- |
| By Jonathan Noble | Thursday, March 14th 2013, 10:19 GMT |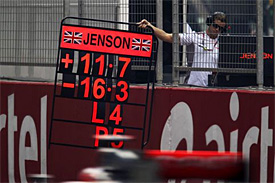 Formula 1 teams have been told to be careful about using driver physios for any car duties, including holding out the pit boards, in case it risks a breach of staff number limits.
Coming into force from the start of this season, F1 teams are restricted to a total of 60 operational staff at each event.
Those employees who are not directly involved in the operation of the car, such as the catering crew, sponsor representatives and marketing personnel, do not count as part of this limit.
However, following discussions with teams, there has been no agreement on whether or not physios should be formally included, as the extent of their involvement with the car varied throughout the grid.
Speaking ahead of the season-opening Australian Grand Prix, F1 race director Charlie Whiting said that he would include physios as 'operational staff' if their duties expanded beyond a pure driver training role.
"There was a division of opinion [among teams] over whether a physio should be included, because it became clear that physios did different things for different teams," explained Whiting.
"Some physios would literally only look after the driver, pat him on the head when he wanted it, feed him, give him drink, and hold his umbrella. So how could you say that he was involved in the operation of the car?
"But some of them operated a pit board, or fitted tyre blankets. Those sorts of things.
"I felt that the best interpretation was that if a physio was just doing what everyone would think a physio should be doing, and not doing any other tasks, they should not be counted in the 60. Some teams disagree, but we've made our position clear."
The disagreement between teams over whether or not physios do count has even gone as far as some outfits suggesting they may challenge the FIA stance with the race stewards, because they are counting their physios as one of the 60, while others are not.
Whiting said that a couple of outfits had already been forced to change their weekend operational plans because of the new rules.
"At least two teams have had to change the way they work, as in give someone else the job of doing the pit board so it is not the physio," he said.
What article 27.6 of the F1 Sporting Regulations says...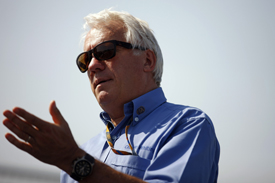 27.6 No competitor may have more than 60 operational staff at an Event with access to the Reserved Areas from the start of initial scrutineering until two hours after the start of the race. However, during the period starting 45 minutes before the start of the first formation lap until 15 minutes after the start of the race the number of operational staff is unlimited.
For the avoidance of doubt staff whose duties are solely connected with hospitality, team motorhomes, sponsors, marketing, public relations, security or driving trucks to or from the Event are not considered operational staff.
Similarly, one medical doctor, any reserve driver or team President, Chairman or Managing Director will not be included in the above figure.
In addition, each Competitor will be allowed ten single race staff for the Championship season that will not be counted within the operational staff limit.
A list of all operational, exempt and single race staff must be submitted to the FIA prior to each Event.