Barcelona GP3 test: Niederhauser fastest before rain hits track
| | |
| --- | --- |
| By Matt Beer | Wednesday, March 13th 2013, 15:25 GMT |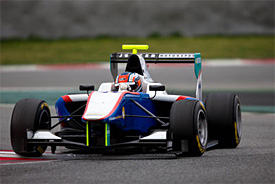 Patric Niederhauser threw in the quickest time of the day in GP3 testing before the heavens opened on the Barcelona track.
Niederhauser led team-mate Alex Fontana in a Jenzer one-two, four tenths of a second apart, as the former's lap of 1m33.750s stoo as the day's fastest.
Manor duo Tio Ellinas and Nick Cassidy were next up, followed by Giovanni Venturini for Trident.
Thereafter the mission was simply staying on the road, with many drivers aquaplaning off in the extremely tough conditions.
Jack Harvey, Cassidy, Carmen Jorda, Emanuele Zonzini, Josh Webster, Facu Regalia, Samin Gomez, Melville McKee (in for Lewis Williamson at Bamboo), Tuesday pacesetter Conor Daly and Carlos Sainz Jr all had incidents, with Sainz damaged his car heavily at Turn 3.
Times meant little, but Aaro Vainio emerged quickest for new squad Koiranen by 1.6s over Harvey.
GP3 testing resumes at Silverstone next month.

Pos Driver               Team        Time     Gap       Laps
 1. Patric Niederhauser  Jenzer      1m33.75s            19
 2. Alex Fontana         Jenzer      1m34.18s + 0.426s   24
 3. Tio Ellinas          Manor       1m34.21s + 0.459s   27
 4. Nick Cassidy         Manor       1m34.22s + 0.469s   23
 5. Giovanni Venturini   Trident     1m34.41s + 0.661s   21
 6. Daniil Kvyat         MW Arden    1m34.44s + 0.691s   32
 7. Jack Harvey          ART         1m34.49s + 0.741s   19
 8. Facu Regalia         ART         1m34.52s + 0.769s   29
 9. Dino Zamparelli      Manor       1m34.52s + 0.770s   30
10. Conor Daly           ART         1m34.58s + 0.826s   29
11. Carlos Sainz Jnr     MW Arden    1m34.60s + 0.851s   27
12. Nick Yelloly         Carlin      1m34.67s + 0.918s   25
13. David Fumanelli      MW Arden    1m34.72s + 0.970s   21
14. Kevin Korjus         Koiranen    1m34.74s + 0.987s   17
15. Jimmy Eriksson       Status      1m34.74s + 0.988s   16
16. Robert Visoiu        MW Arden    1m34.74s + 0.988s   25
17. Patrick Kujala       Koiranen    1m34.84s + 1.094s   20
18. Emanuele Zonzini     Trident     1m34.98s + 1.226s   19
19. Adderly Fong         Status      1m35.16s + 1.409s   13
20. Aaro Vainio          Koiranen    1m35.33s + 1.578s   15
21. Luis Sa Silva        Carlin      1m35.45s + 1.697s   27
22. Josh Webster         Carlin      1m35.63s + 1.879s   16
23. Samin Gomez          Jenzer      1m36.07s + 2.322s   18
24. Eric Lichtenstein    Carlin      1m36.21s + 2.459s   28
25. Melville McKee       Bamboo      1m36.34s + 2.586s   27
26. Ryan Cullen          Bamboo      1m37.13s + 3.378s   22
27. Carmen Jorda         Bamboo      1m38.38s + 4.628s   21