Mark Webber says his future with Red Bull is in his own hands
| | |
| --- | --- |
| By Jonathan Noble | Wednesday, March 13th 2013, 09:18 GMT |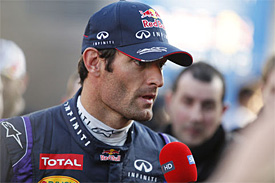 Mark Webber insists his Formula 1 future with Red Bull is entirely within his own hands, after claiming that he does not see anyone out there as a threat to his seat.
Although Toro Rosso duo Daniel Ricciardo and Jean-Eric Vergne have set their sights on a move up to Red Bull in 2014, Webber says that the reality is that if he and his team keep delivering good results then their relationship will most likely continue.
Speaking at an Infiniti-hosted press conference in Melbourne on Wednesday, Webber said that fresh rumours that he could be heading into his final season were nothing to be surprised about.
But, when asked if he could sense a rival being in pole position to take his seat in 2014, Webber said: "Not really, mate... There was Kimi [Raikkonen] who was supposed to replace me in 2009.
"It comes with the territory when you are with a top team and at the back end of your career. The vultures have been on the branches for the last three or four years, that is the way it is.
"There will be a day where I stop and someone will drive that car. And maybe the car is not competitive any more, so it won't be important. Let's see what happens."
Webber reiterated that he was happy to stick to his policy of having a one-year contract each season, and welcomed comments from team boss Christian Horner this week that if he delivered for Red Bull again this year then he would likely get a new deal for 2014.
"I think it is probably a no brainer for the team as well," he said. "We have been successful over the past few years. That is the team's position and it's obviously good to hear."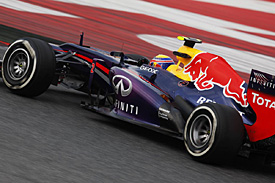 Webber did draw short of committing himself to Red Bull for the rest of his career though, with him having openly held talks with Ferrari last year.
"Never say never," he said. "For me to finish my career [at Red Bull] is quite likely but you never know. The phone might ring tomorrow with something else.
"It is a funny old business F1... chopping and changing teams late on, I'm not sure. I admire Rubens Barrichello for that.
"I couldn't have done what Rubens did, going from having been at the top and then going down - I am not particularly keen on doing that."