Ricciardo says Toro Rosso needs time to find STR8's sweet spot
| | |
| --- | --- |
| By Kevin Turner and Matt Beer | Monday, March 11th 2013, 14:58 GMT |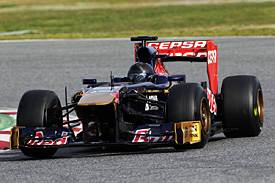 Daniel Ricciardo believes Toro Rosso still needs time to find the sweet spot with its 2013 Formula 1 car.
The Australian is optimistic that the STR8 is an improvement over the machine that often brought up the rear of the midfield in 2012, but said the team had yet to fully understand how to access its pace.
"There have been some positives, some things I like on the new car," Ricciardo said, "but finding it in its window and working ideally where we want it to work I still think is taking a bit of time.
"We still need to understand a bit more, so there are some positives, but I don't believe it's yet come together."
Ricciardo played down the significance of team boss Franz Tost's top-six championship target, saying recovering the ground lost in 2012 would be good progress initially.
"Obviously it's our target [to get sixth] but the realistic target is to be amongst the midfield pack that we sort of fell behind last year," he said. "I think we're in there. Which end? I'm still not sure."
Despite his caution, Ricciardo agreed that sixth in the constructors' championship was a reasonable target for a team of Toro Rosso's resources.
"We've got the tools to do it.," he said. "Franz didn't come out and say he was hoping for a miracle.
"It is definitely doable, we just have to wait till the racing season starts to see strong and weak points in an even playing field with the others."