Daniel Ricciardo says he cannot settle for matching 2012 F1 form
| | |
| --- | --- |
| By Kevin Turner and Matt Beer | Tuesday, March 5th 2013, 13:00 GMT |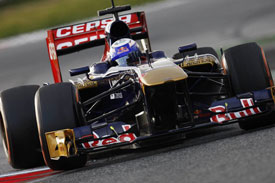 Daniel Ricciardo says he could not be satisfied with another year near the foot of the Formula 1 midfield now he is starting his second full season.
The Australian was 18th in the championship in 2012, with four ninth places as his best results.
He feels that was acceptable for a rookie season, but that he would be frustrated with himself and the Toro Rosso team if 2013 did not deliver clear progress.
"I never want to come across as cocky or big headed, but in your first full year, you're happy just to be there and have arrived in Formula 1," he said.
"As soon as you get used to the environment, it's not enough. So this year, it's not enough for me just to be here and just to be racing.
"I want to be here for a purpose and to make something good happen.
"The confidence I have now is higher and for that reason I really believe I can make the results.
"I put a lot of pressure on myself to do that and if I'm just racing but not doing anything spectacular, it's not enough."
Ricciardo said his goal was to significantly improve on 2012's haul of 10 points and to clearly outpace team-mate Jean-Eric Vergne.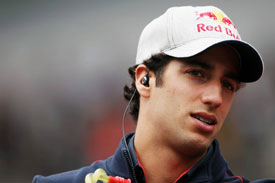 "I think that if we can definitely, consistently finish in the points, that's already a good start.
"In the points you're really racing for something.
"When you're racing for 15th/16th it's not as fun. When there's a prize on the line, it makes it more exciting.
"So definitely more points finishes [is the aim] and to finish ahead of my team-mate. Not by one point, but hopefully by a convincing amount. That will make me happy.
"A podium or win would make me happier, but for now that's good."