Luiz Razia vows to get back to F1 after losing Marussia seat
| | |
| --- | --- |
| By Jonathan Noble | Friday, March 1st 2013, 20:43 GMT |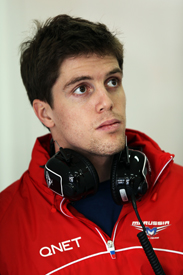 A 'shocked' Luiz Razia told AUTOSPORT he will not give up on securing his Formula 1 dream, despite losing his Marussia drive because of a sponsor problem.
Less than a month after he was announced by the team for 2013, Razia had his contract with the Banbury-based team terminated on Friday after a sponsor failed to keep up with its payment schedule.
Razia did everything he could to try and keep his deal alive but in the end events conspired against him, with Marussia opting to sign Jules Bianchi instead.
In his first interview since finding out that he was being replaced at Marussia, Razia said the late disappointment was gutting but ultimately made him even more determined to secure his place on the grid.
"I'm in a kind of shock, because you expect to be in F1, you are there, announced, testing, and then you are out - and not because of a driver fault," he told AUTOSPORT.
"I did everything right in what I could do, but it was really just a circumstantial thing that happened, and that was it.
"But I still am here. My career is still shining and I can overcome this difficult situation. It is just something that has happened to me. Sometimes life does this to you.
"My main goal is to be in F1, so all my effort is there. I am now without any grounds, but I will go with my family, and we will be sad for a while, but I will get back to the category.
"I was there two weeks ago, and I didn't feel I shouldn't be there for this season."
No anger towards Marussia
Razia said he was not upset with Marussia over what happened as he fully understands the difficulties the outfit would have faced if it did not secure much-needed sponsorship funds.
"I could be angry. I could be very selfish, but I am not. I am really tolerant with these things.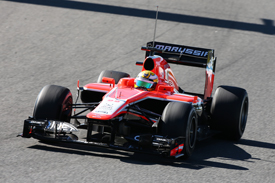 "I understand the position of Marussia and I like the team. They treated me very nicely there and, to be honest, they were trying to sort out the situation for me.
"They chose me because they wanted me there in the first place, so there are no hard feelings.
"It is also fair to say that Bianchi had a difficult situation and, to be honest, he deserved the drive."
Razia believes there will be opportunities for him in the future and he has not ruled out securing a role with an F1 team for 2013.
"I don't want to lose this opportunity, as I hate losing more than I love winning," he said.
"I need to find a situation where I am going to be feel competitive, where I can overcome this and get back in the car as soon as possible.
"I will see what is best for me now and put together what I need to be in F1. For now, I just need to regroup my thoughts."